Recent performance
L'âme en 3D, November 9-10-11, 2018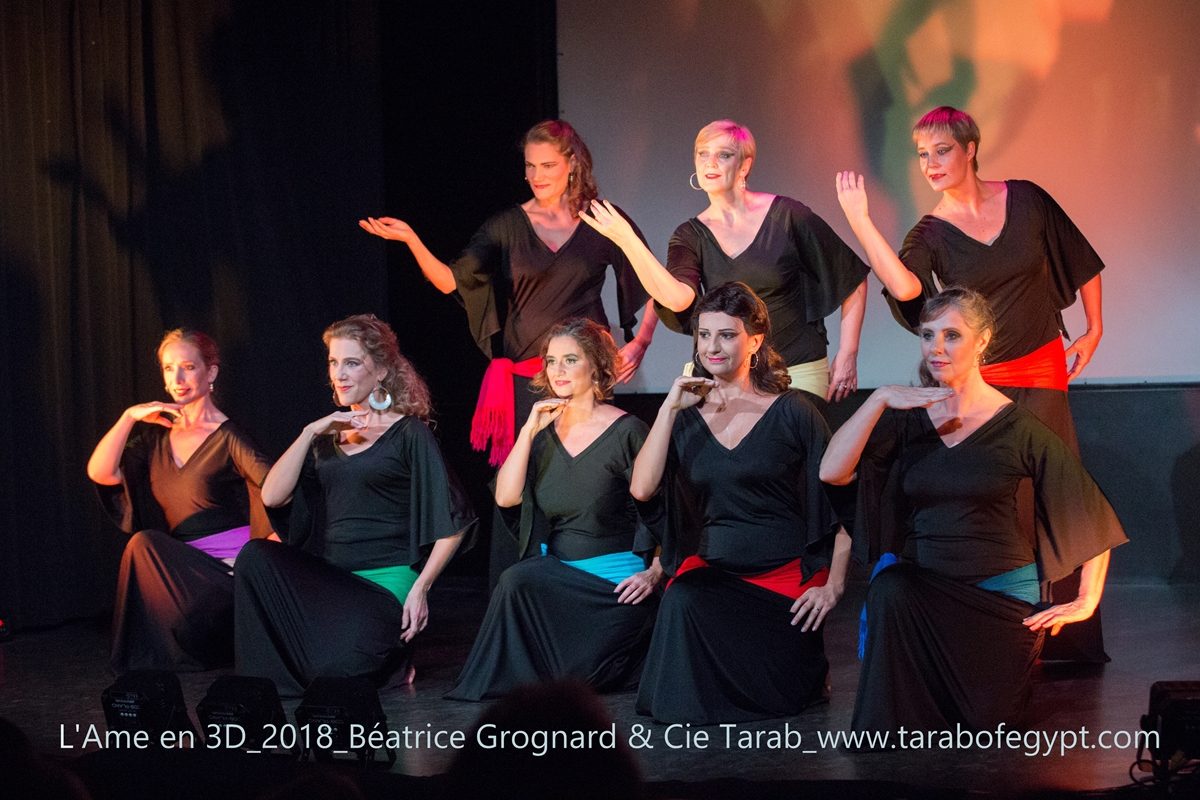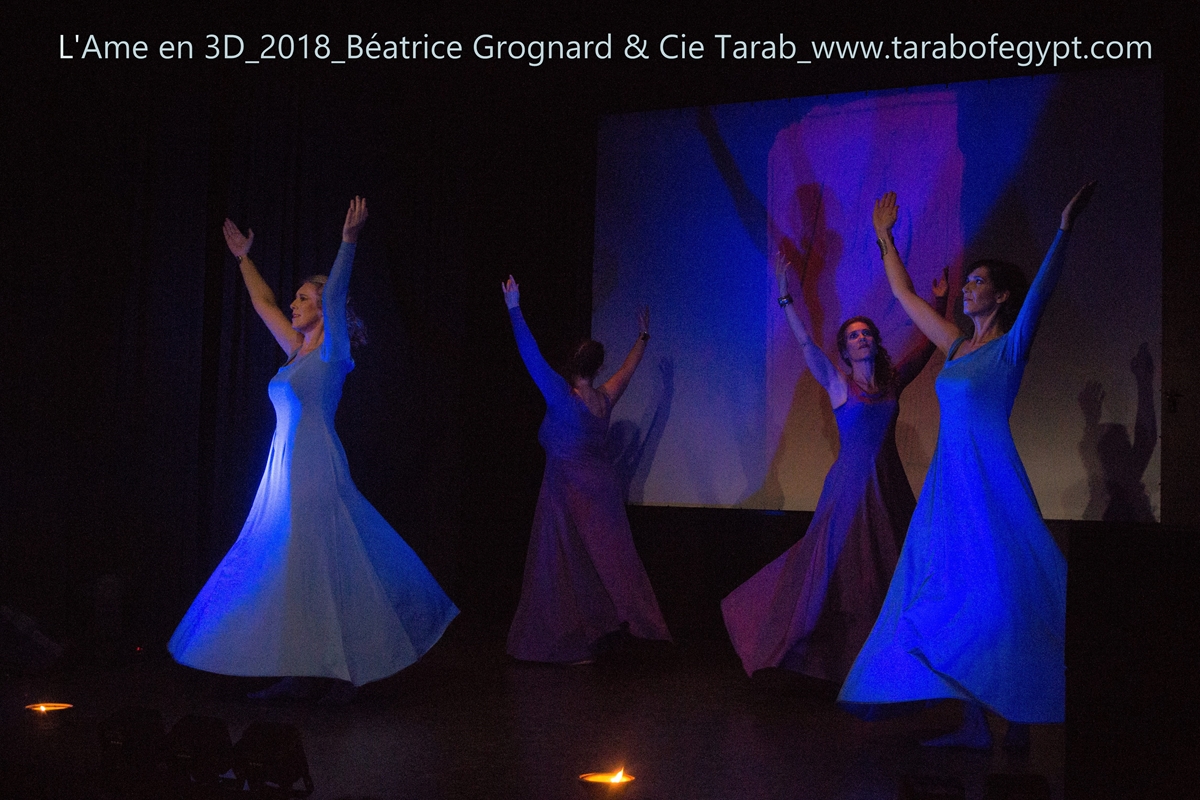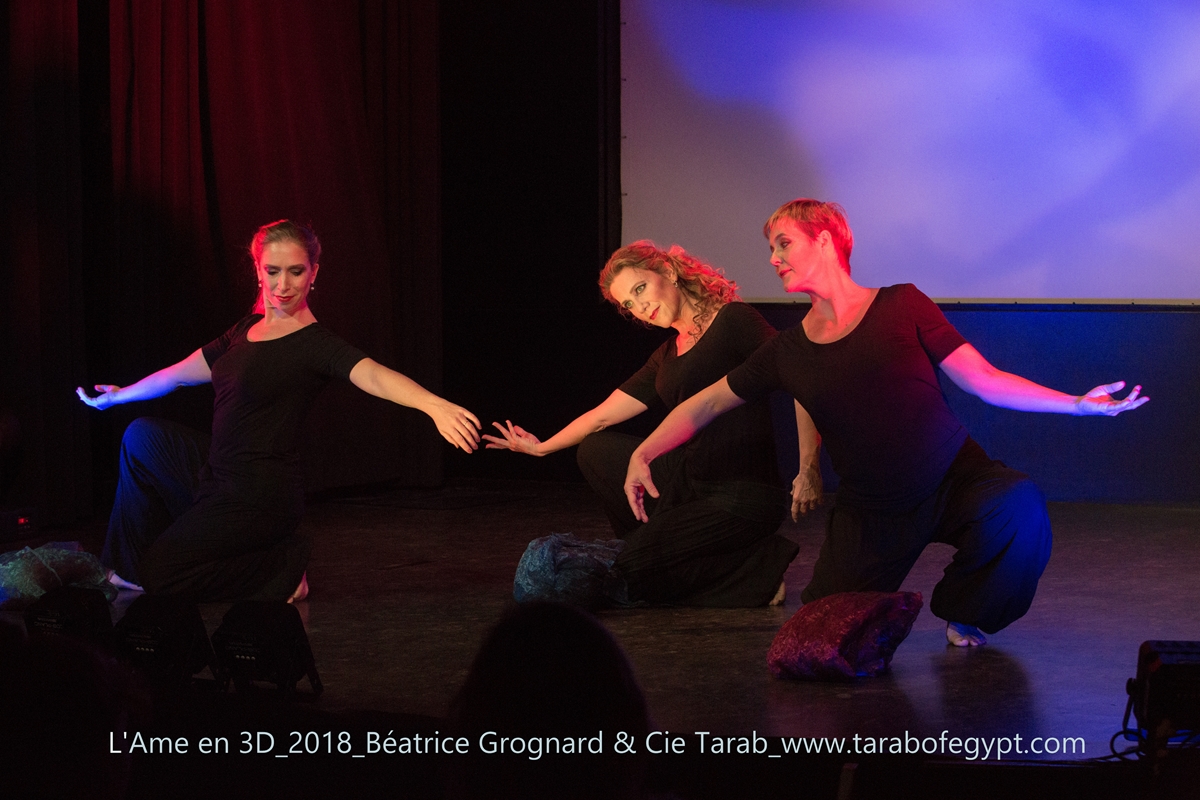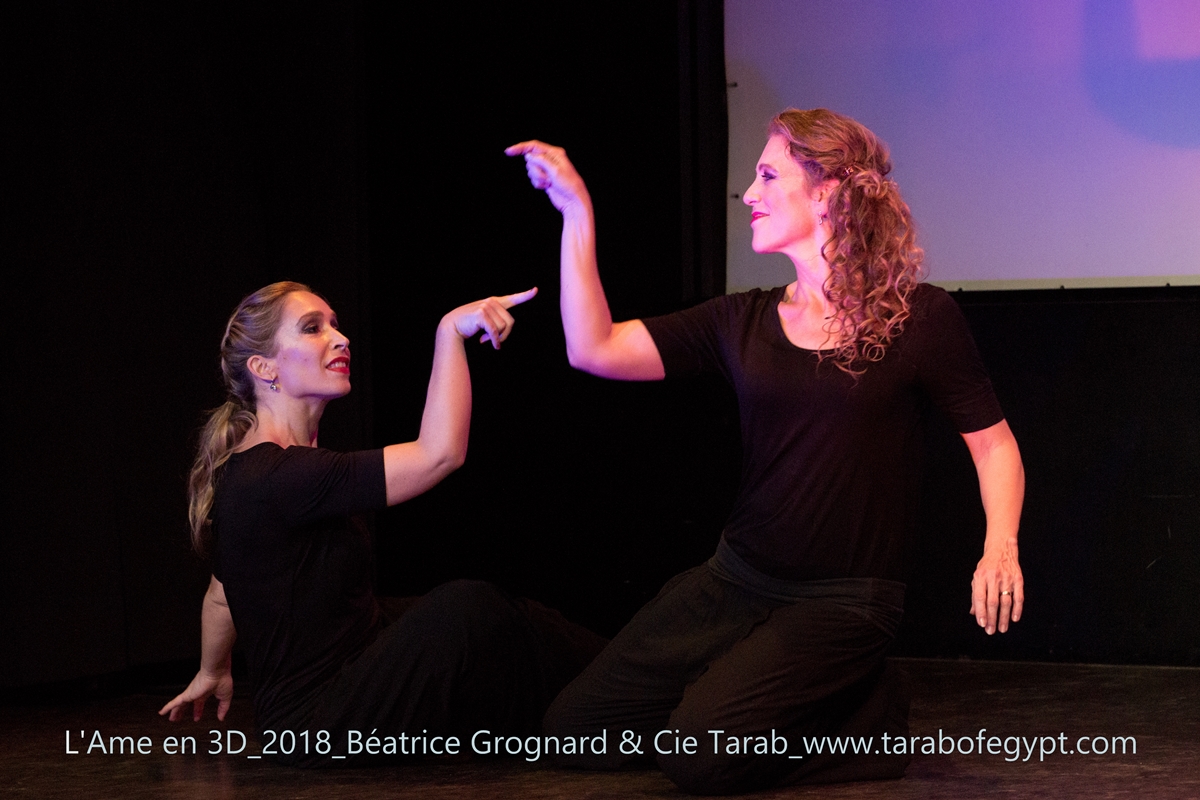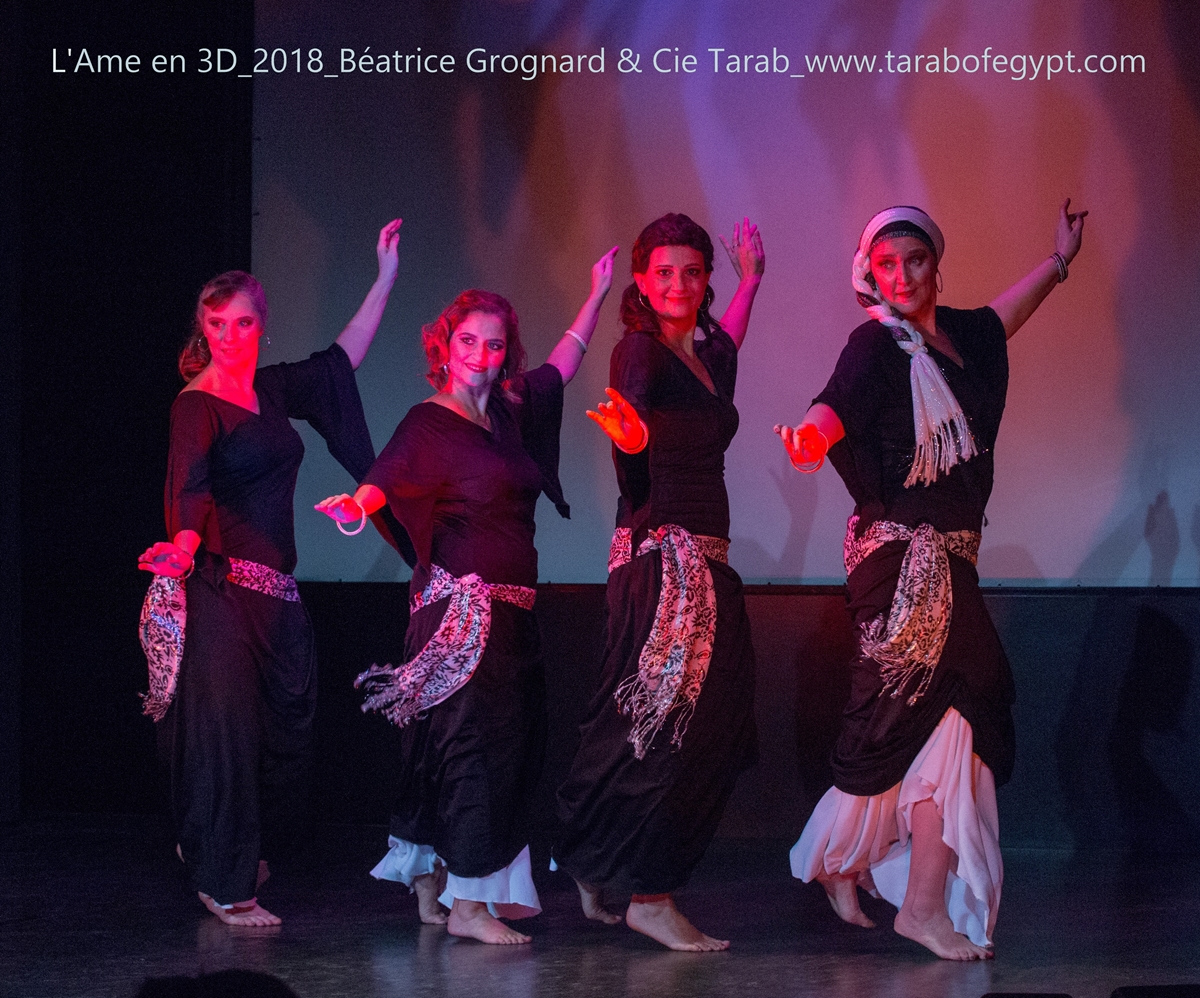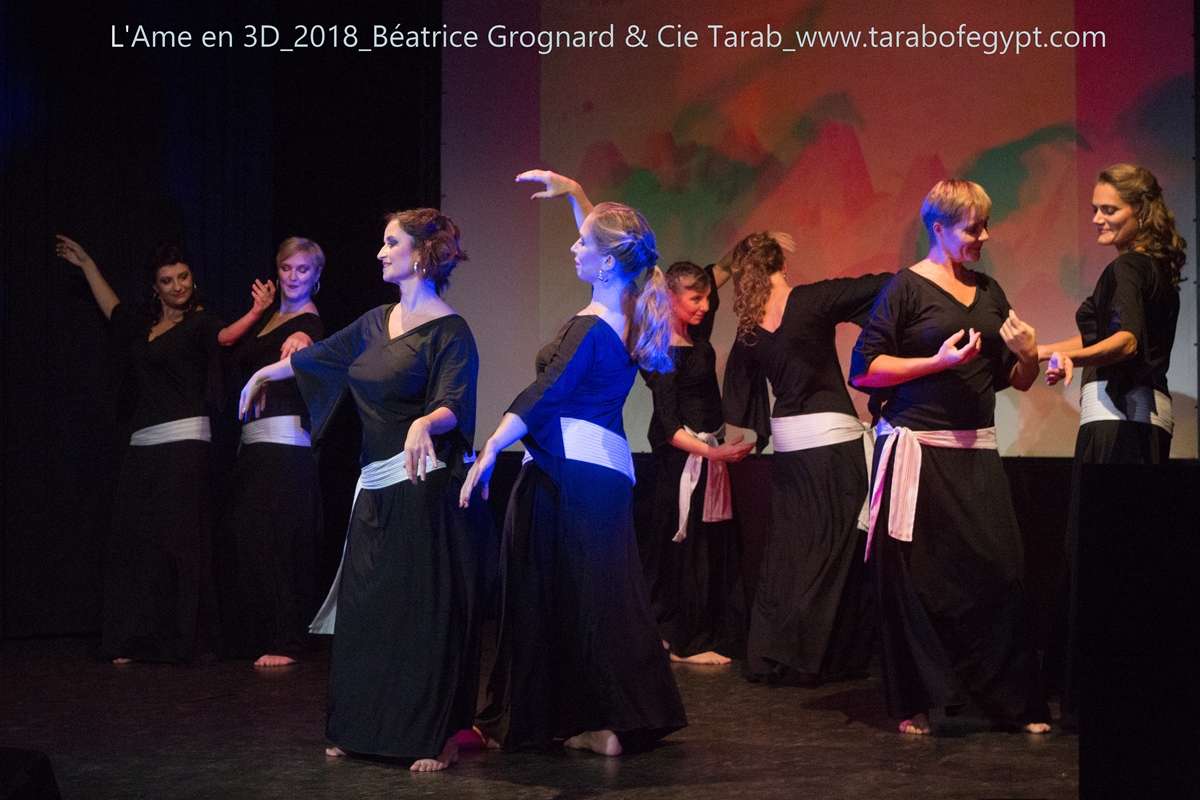 L'âme en 3D, November 18-19, 2016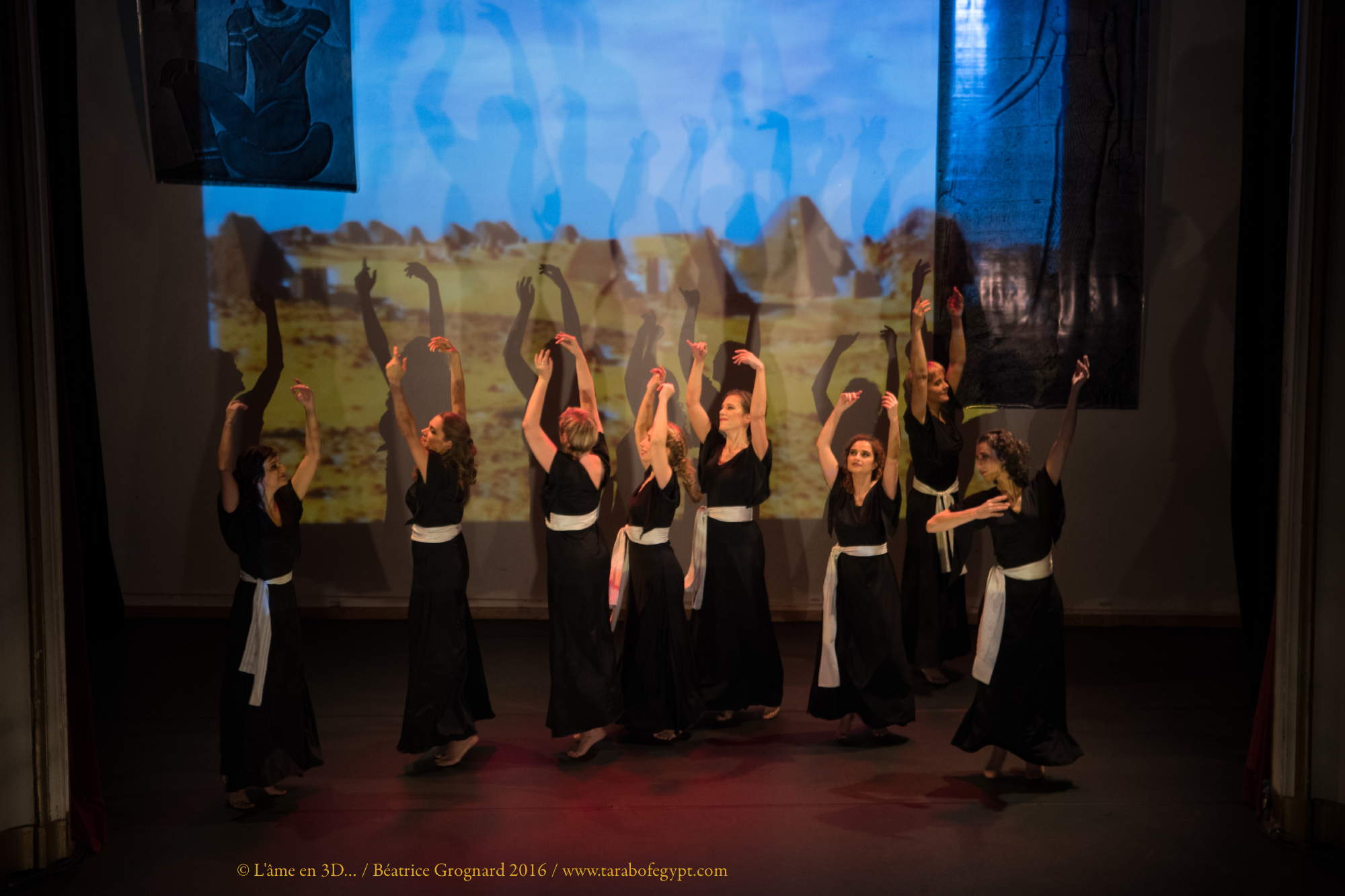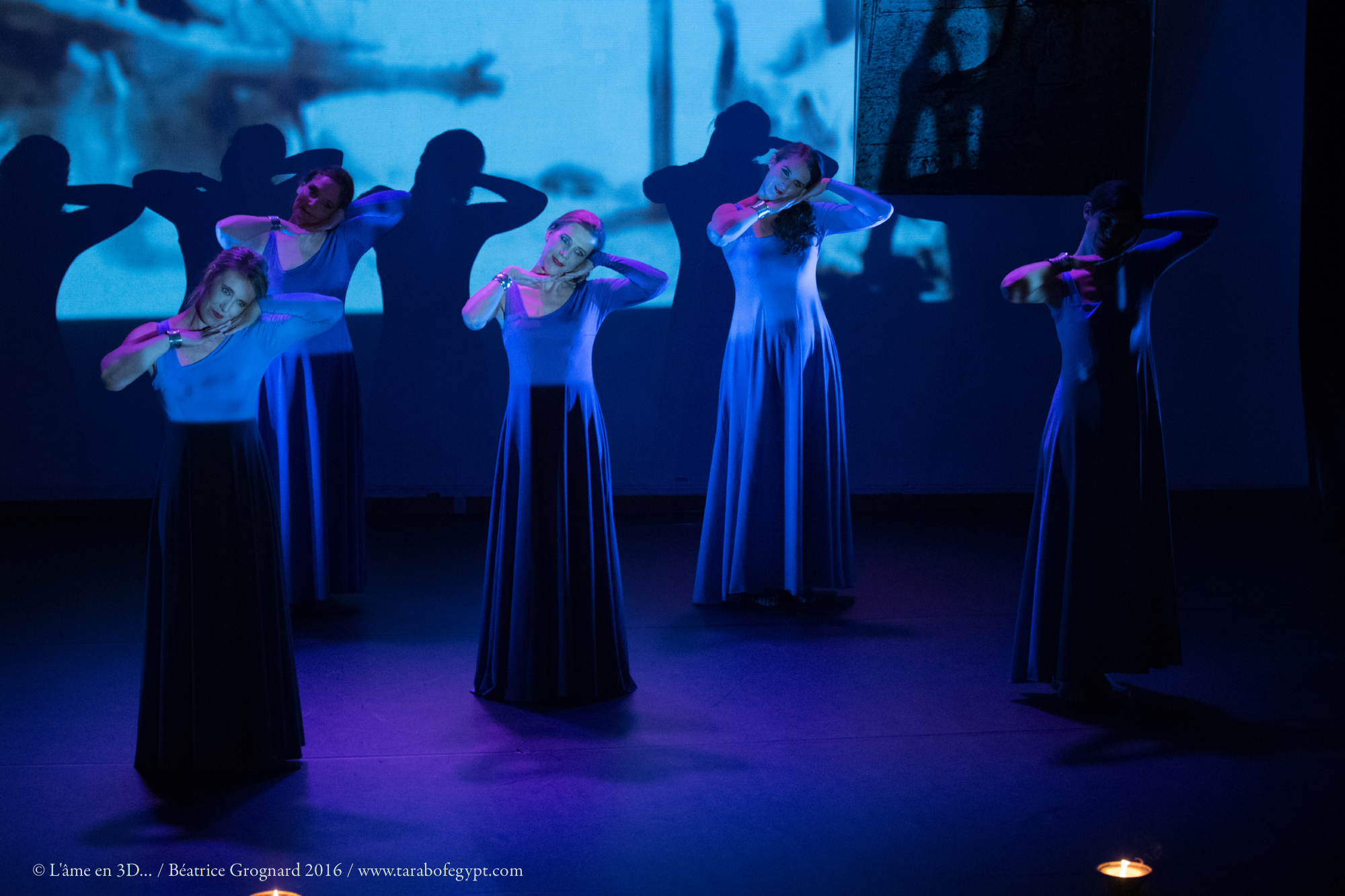 Artistic background
Béatrice Grognard, a Belgian dancer and choreographer, holds a particular and unique place on the cosmopolitan and international scene of Egyptian dancing.
The purpose of her approach is to combine her European background with her thorough knowledge of Egypt, in a joyfull way.
Education
After following several training courses in ballet, African and Egyptian dancing, as well as modern jazz and completing a master and special teacher qualification of archaeology and art history at ULB (Brussels University), Béatrice started a self-taught approach in 1995, aiming at developing a modern and unique rethinking of Egyptian dances, which at the time was often perceived as "orientalist" and faileds to magnify the ancestral traditions.
Tarab Company
Béatrice created the Tarab company and Tarab style (« Tarab » meaning « enchantment », « emotional ecstacy») based on a subtle combination: mastering Egyptian traditions, taking the necessary distance to be able to revive the aesthetic approach and providing this ancestral art with the essential modernity to ensure its survival.
A viewpoint from Egypt
Through the voice and look of its musicians, artists and audience, Egypt does not question the western origins of Béatrice. Only her thoroughly different and renewing dancing matters and is perceived as a real evolution towards a new blossoming of Egyptian culture, which is sometimes misunderstood and underrated.
Her first job as an archaeologist and art historian, her passion for ancient cultures, which are the source of our civilisations, and her unfailing will to give Egyptian dancing a new, daring and modern dimension, motivate and give rhythm to her creative search.
Short history of the Tarab performances
- «Tarab» («Enchantment») (1998)
- «Nesmet Hob» («A Love Breeze») (2001)
- «Mousaferoun» with «Les musiciens du Nil» («Travellers») (2002, 2006 & 2007)
- « Zaman el fan el gamil» («The Golden Age of the Art») (2005 & 2006)
- «Al Wegdann» with Sheikh Ahmed Al Tuni («With all my essence») (2008)
- «Songe d'une nuit d'Egypte» («Dream of an Egyptian Night») (2010)
These performances have been presented in various festivals and theatres
- La Reine Blanche, Paris (2012)
- Northern Ballet, Leeds (2011)
- QEH, Bristol (2011)
- Fiesole Festival, Roman amphitheatre, Firenze (2011)
- Tours cultural center (2010)
- Wolubilis, Brussels (2010)
- Théâtre Molière, Muziekpublique, Brussels (2008)
- Studios en scène, contemporary dancing festival Bud Blumenthal, Brussels (2008)
- Casino Théâtre, Geneva (2007)
- Théâtre Don Bosco, Brussels (2005 and 2006)
- Festival «Le Printemps de la Méditerranée», Théâtre 140, Brussels (2006)
- Théâtre Communal Barberino del Mugello, Firenze (2002)
- Les «Fêtes Romanes», Brussels (2001)
- Théâtre du Club Suisse, Cairo (2001)
- First Innovative Art Festival «Al Nitaq», Cairo (2001)
- Cinéma Nova, Brussels (2000)
- Festival « C'est du jamais vu », Espace Catastrophe, Brussels (1999)
- Festival « D'ici et d'ailleurs » Centre culturel Jacques Franck, Brussels (1998)
- CVA d'Anderlecht, Brussels (1998)
- Théâtre des Tréteaux, Brussels (1997)
- Watermael-Boisfort cultural center, Brussels (1997)
- Auderghem cultural center, Brussels (1997)
- Théâtre Léopold Senghor, Brussels (1996)