Situation
Tarab is situated in the heart of Brussels, in the pleasant area of Woluwe Saint-Lambert, near the Woluwe Shopping Center and Wolubilis.
Espace Tarab
96 chaussée de Roodebeek
1200 Brussels - Belgium
200 meters: metro station Roodebeek - Bus 29-42-45-359 - Tram 8 (Louise)
Easy parking / Chaussée de Roodebeek, from Monday to Saturday, from 09:00 am till 6:00 pm, blue disk obligatory (max. 2 hours).
Many stores and catering facilities in the nearby area with various food styles (Shopping Center, Cook&Book, Delhaize, Farm etc.)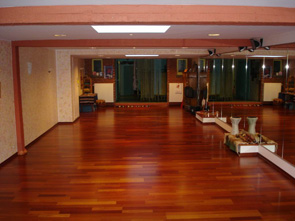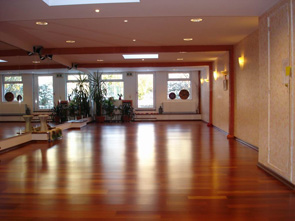 Infrastructure
Tarab offers a practical, comfortable and quiet environment to organise your classes, workshops, conferences or various activities.
Tarab's facilities include:
- Welcoming area
- Changing room
- 2 toilets
- Space-kitchenette (kettle, work-top, refrigerator, cups)
- Room with parquet (90 m ²)
- Sono-system & TV - DVD
Enjoy the big garden at the back.
The room is equipped with mirrors on one side, which can be covered on request.
The acoustic and thermal insulations protect from the heat in the summer and keep it warm in the winter..
Rental conditions
The most current requests:
1,30' hour: 35 EUR
4 hours: 90 EUR
8 hours: 150 EUR (+ cleaning)
Weekly occupation / 1 hour : 27 EUR
(VAT is applicable with exceptions)
Do not hesitate to get in touch with Béatrice Grognard for others specific requests : This email address is being protected from spambots. You need JavaScript enabled to view it. - 0497/87.94.27