Trips "Dance-Culture" in Egypt
By determinedly outstanding journeys, Béatrice offers the unique opportunity to discover Egypt under all her facets.
Cairo in June, 2000, Luxor in May, 2002, Cairo - Alexandria - Fayoum in March, 2004, Aswan in May, 2005, Luxor in May, 2007, Luxor-oasis of Kharga in 2010, City Trip in Cairo in 2012, Aswan 2015 and Luxor-Aswan 2019 allowed the numerous participants come from all Europe to live intensely these at the same time artistic and initiatory trips in the heart of Egypt millennium, inexhaustible and always generator of unspeakable feelings and exalting discoveries.
Memories of the 9

th Tarab trip "Dance-Culture" / Luxor-Aswan / 2019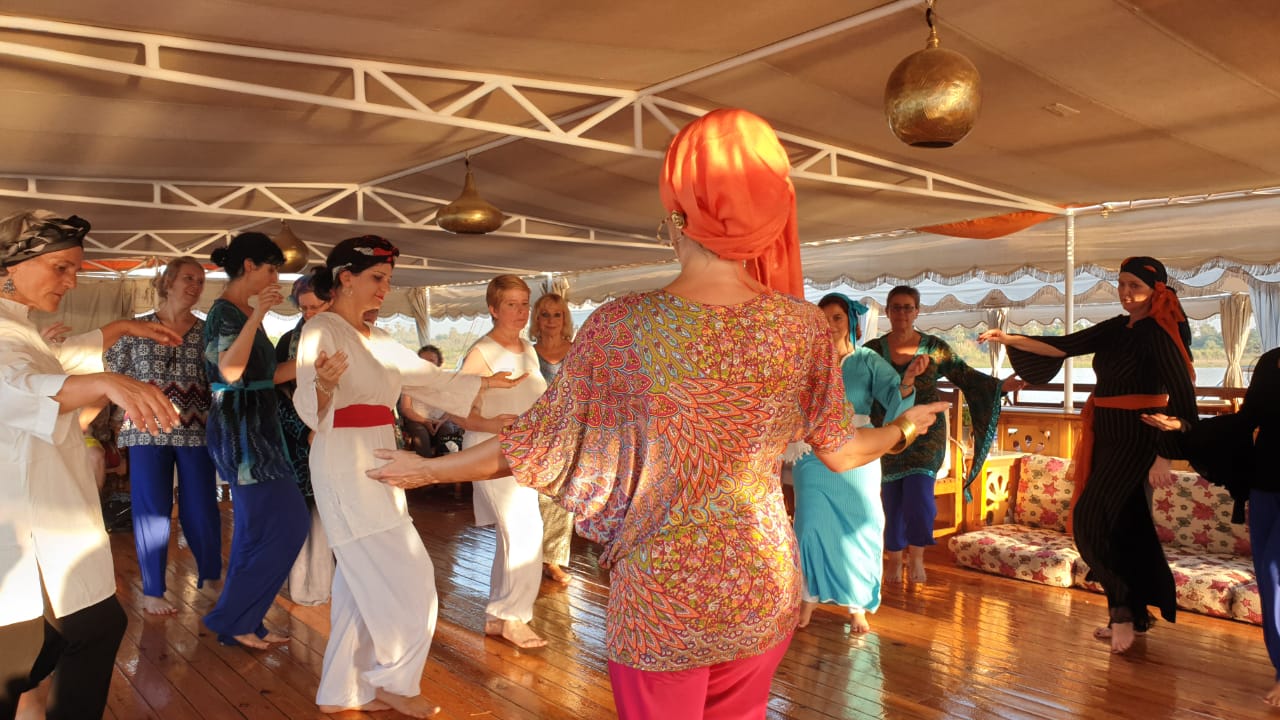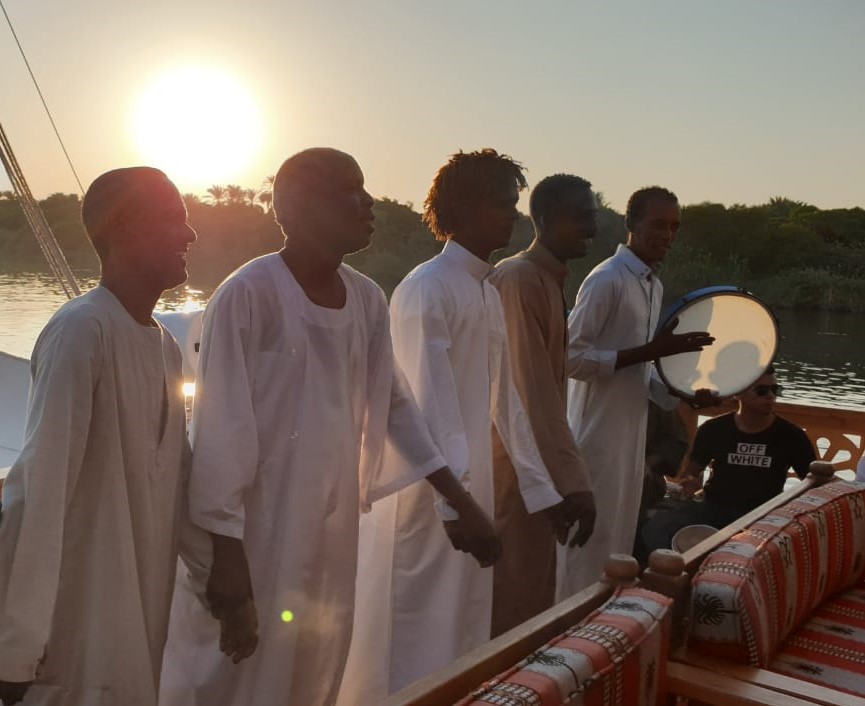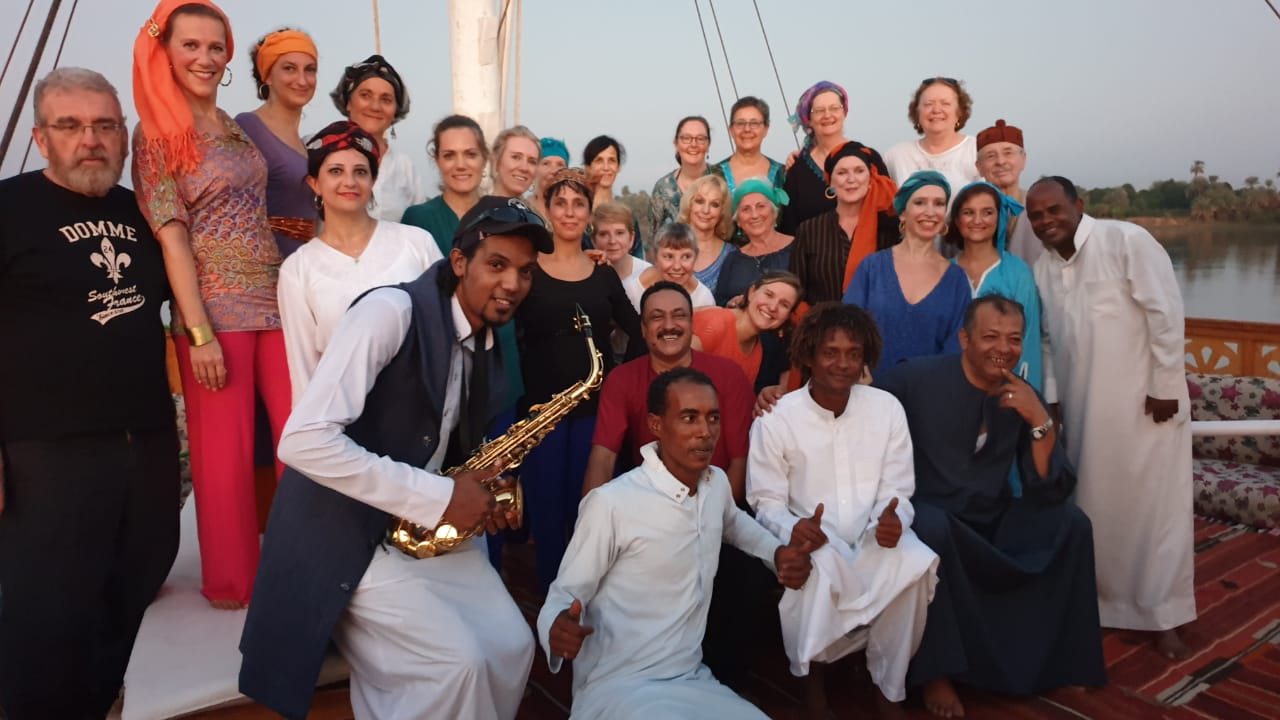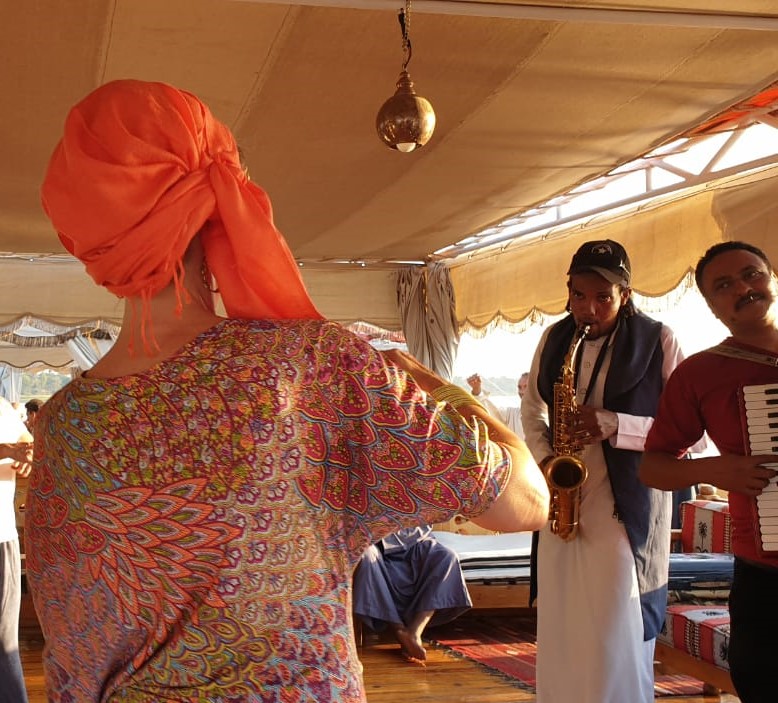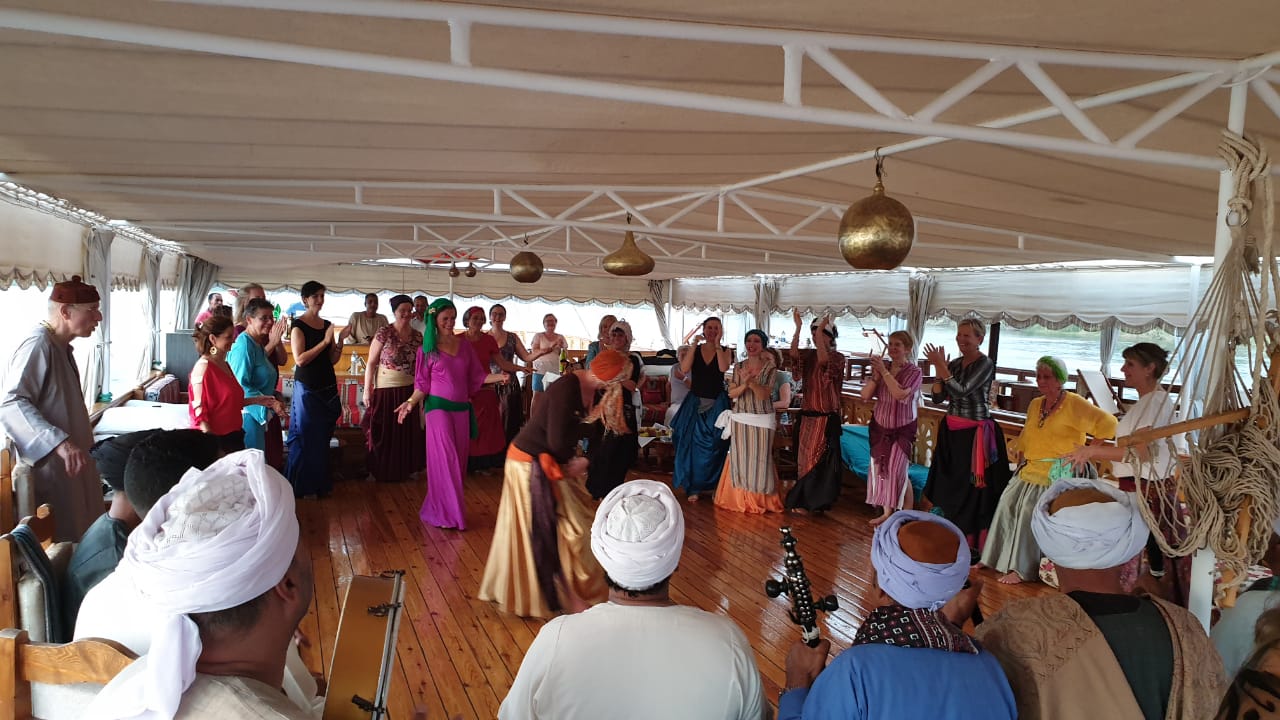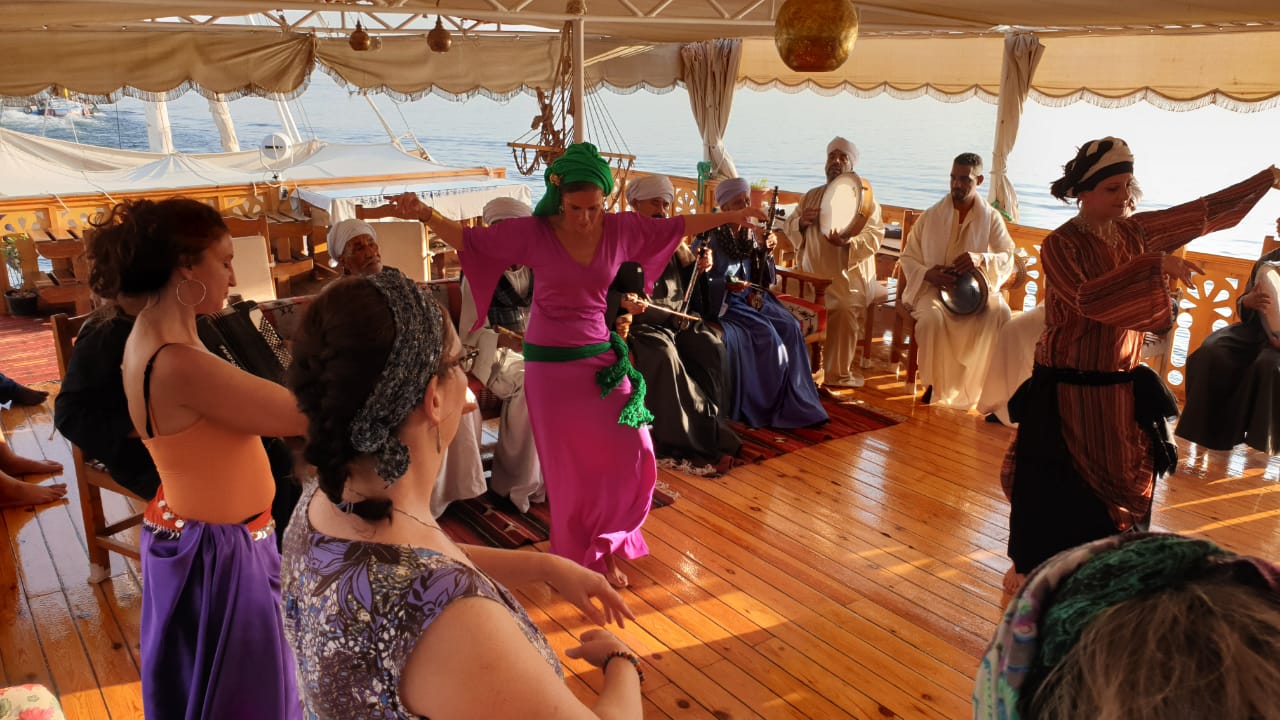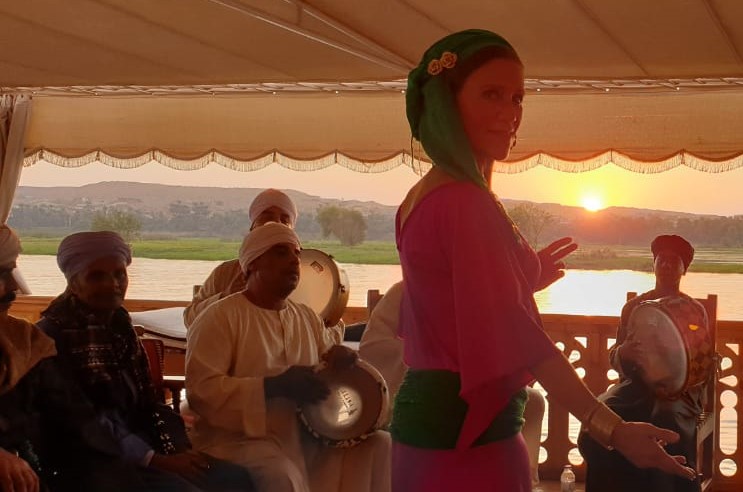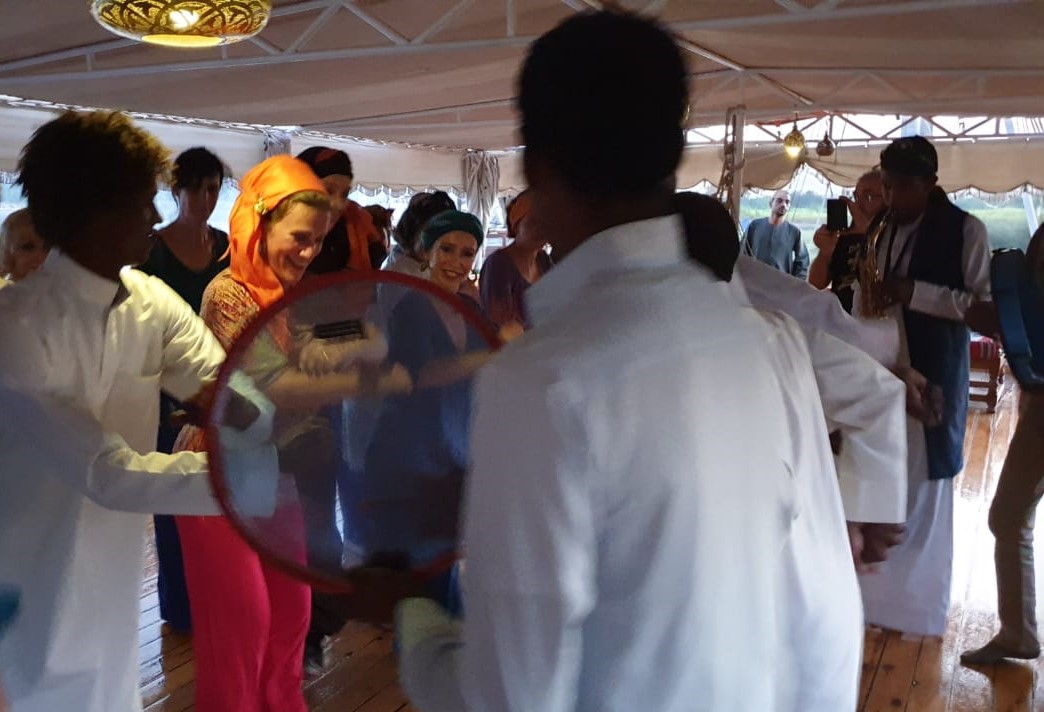 Memories of the 8

th Tarab trip "Dance-Culture" /Aswan / 2015
…. Workshops with magnificent troupes of musicians and singers sha'abi, gypsy, nubian & baladi.
Important visits, cultural evenings, varied walks and strolls,...
Videos Egypt-Aswan (2015)
https://www.facebook.com/pages/B%C3%A9atrice-Grognard-Compagnie-et-Ecole-Tarab/242589762427409?sk=videos

"It was just magic and so moving to see you dance: you took us with you in a swirl of music. I was able to pick up a few things and will certainly keep practising, hoping to remember all that we have learned during the workshops. We will meet again, that's for sure.
Everything was perfect: the choice of the place where we were staying, the cultural trips to Kalabsha, Philae, etc., the boat trips and the friendly group of dancers.
I also liked the "photo shoot", particularly the picture with the group of women in the dunes.
You really pampered us with daily surprises, with cultural evenings on the terrace along the Nile, full of music and dance, with "bedtime stories" that awaited us in our rooms and with the nice little paintings at the end of our stay.
My special thanks go to Wagdi for organizing this beautiful trip and all the efforts it took to make this "Tarab trip to Aswan 2015" another big success.
Many thanks to both of you.
This was a wonderful experience that I hope to be able to repeat."
Rossella B.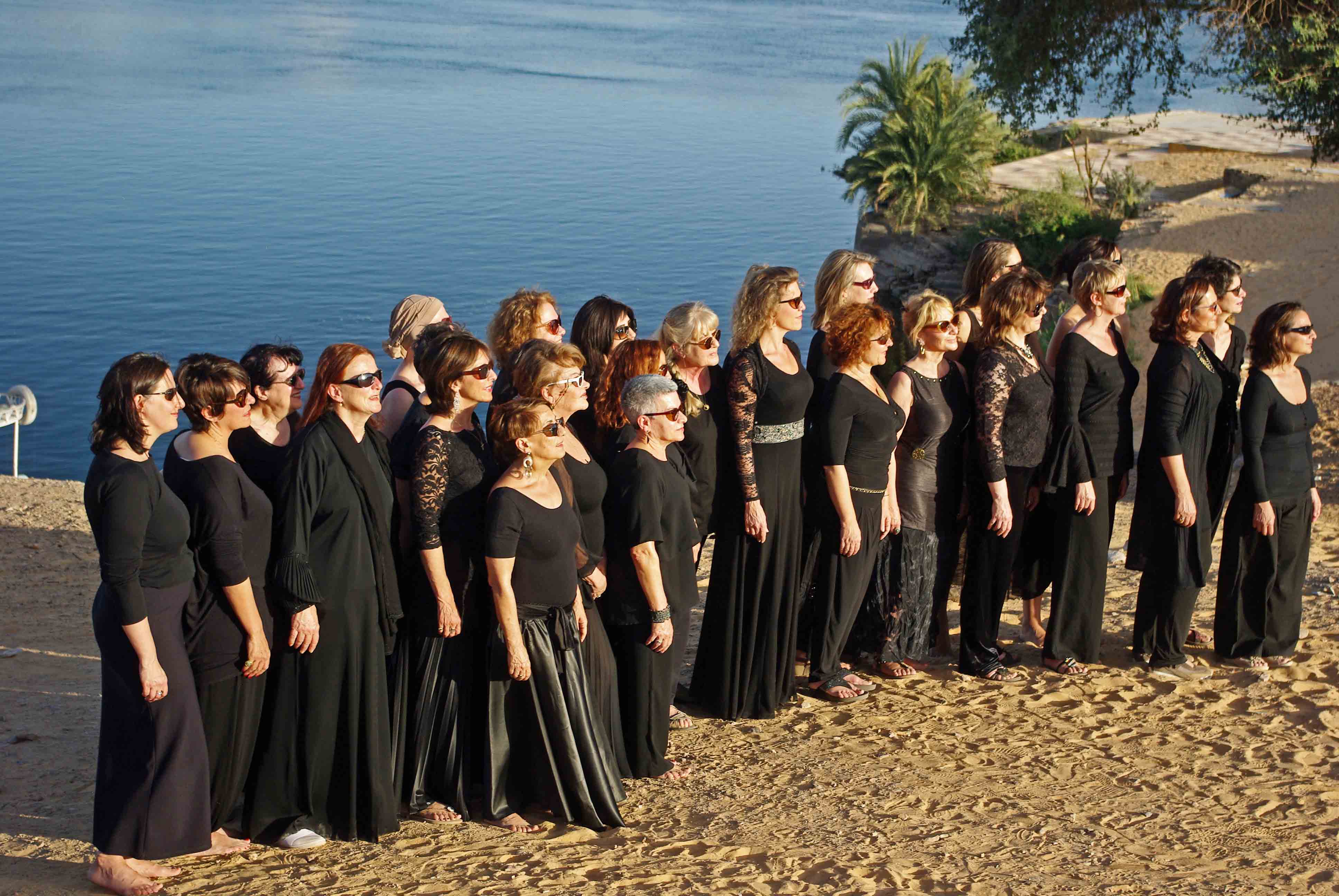 Black : colour of revival in Ancient Egypt...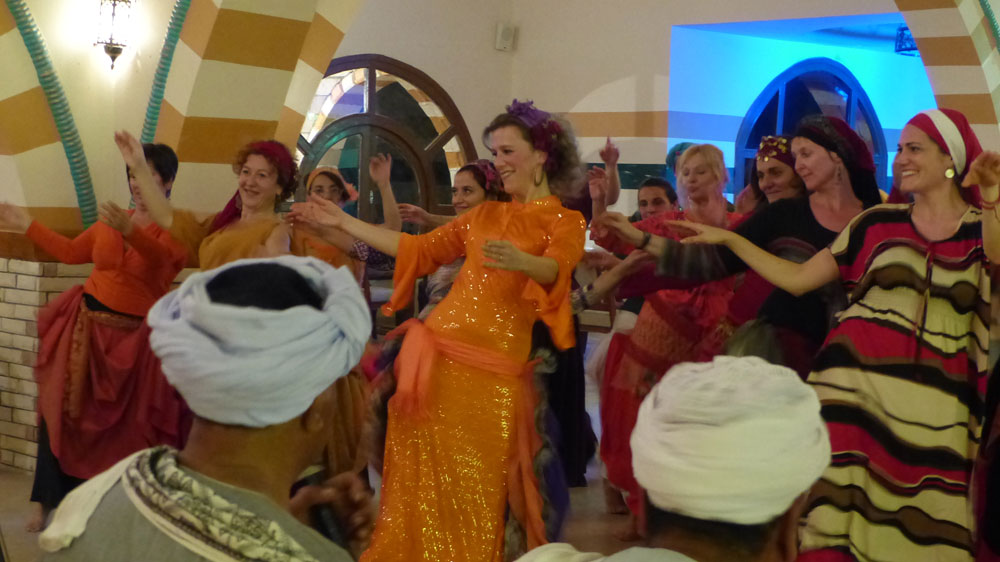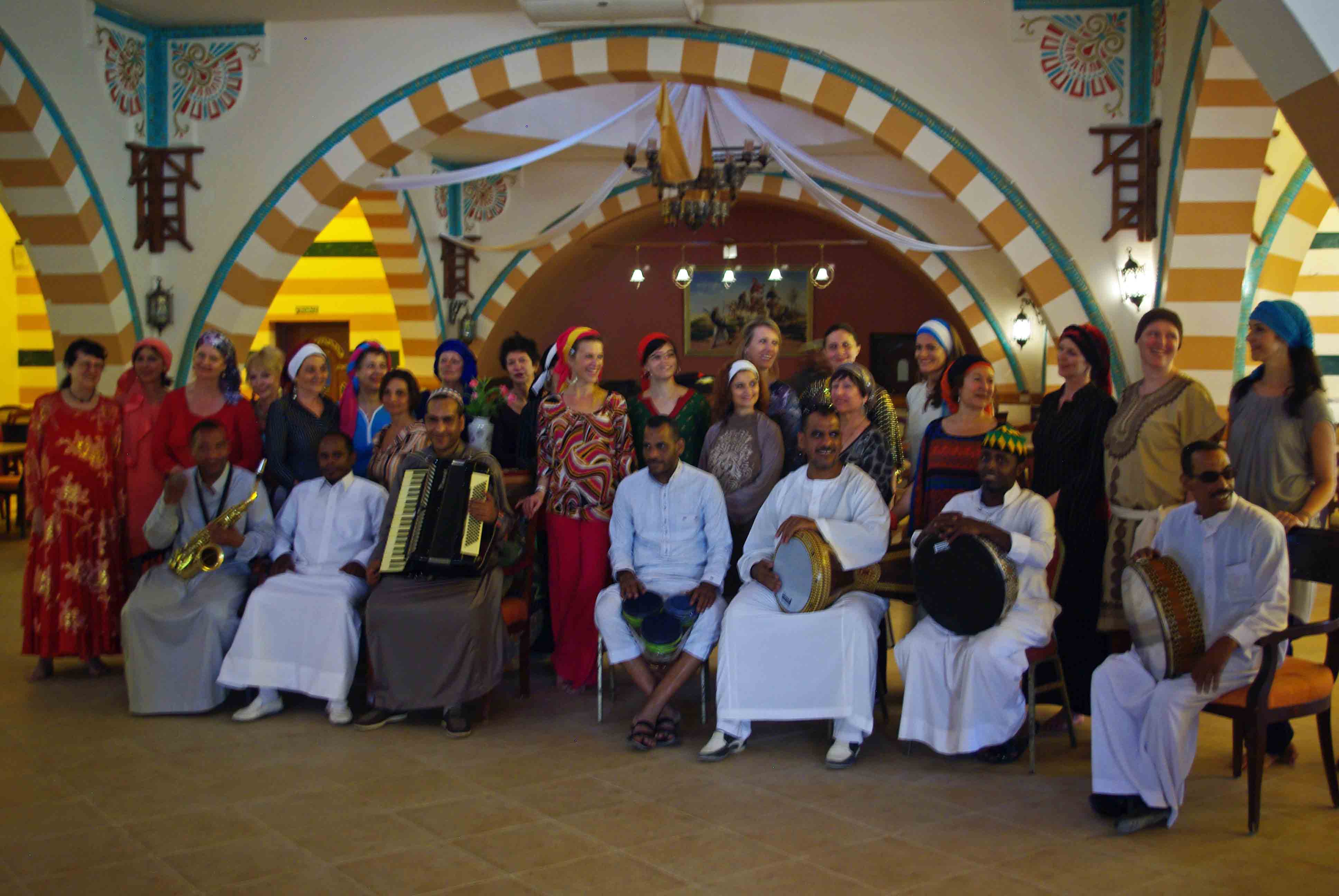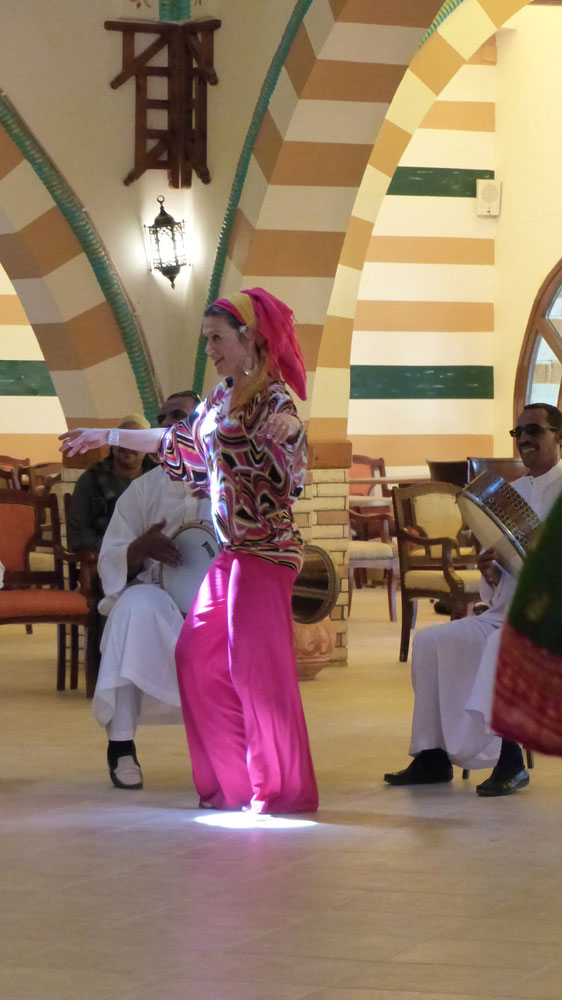 "I am looking at the pictures of this trip and all the emotions come back as if I was still there (and indeed my heart IS still there). The trip was simply wonderful, from the hotel on the island, the magic and moving temples of Philae, Abu Simbel and Kalabsha (including the immense work done to save them from the water which is a wonder in itself and in stark contrast to the destruction which is taking place elsewhere right now), to the ever-friendly Egyptian people (despite the difficult times they are going through), the virtuoso musicians and, of course, the dance!
The fusion between Béatrice and the musicians was just extraordinary. I have known Béatrice for almost 20 years and I am still struck by the beauty of her dance, the passion, the innate profound knowledge and understanding of the music (I have always been convinced that this comes from a previous Egyptian life, it cannot be explained in any other way).
The musicians obviously shared my feeling judging from the look on their faces, in particular those who had never worked with her before like the Nubians: a look of admiration but also incredulity (how can she dance like this? How does she know?). Not a surprise that at the end of the workshop they called her the "white Nubian"! And those who have known her for many years (the ever-superb Musicians of the Nile) were no less incredulous of the skill and creativity of this lady who with her dance, as they said themselves, inspires them to play at a higher level and explore new horizons.
So thank you Béatrice for having planned this trip (...), for having believed it was possible and for having the courage to sail against the tide." Loredana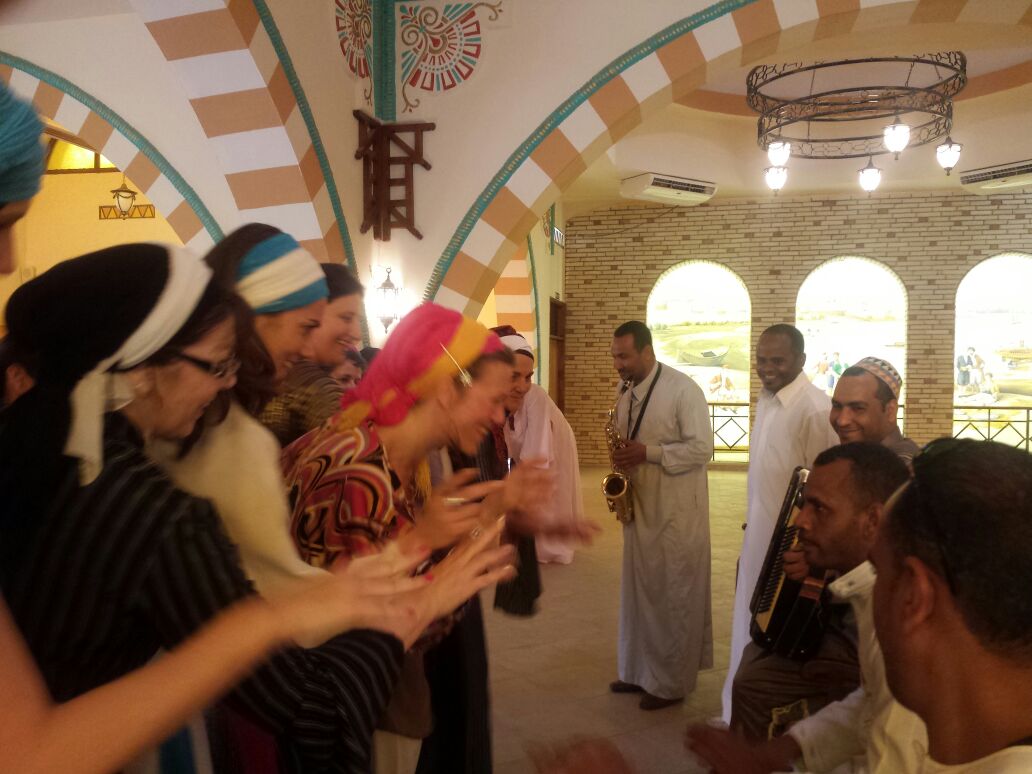 "This trip was just amazing, full of emotions and sensations. I lay along the unique Nile River, almost in ecstasy to dance on live music and with Béatrice who was particularly inspired. I was also moved by the temples, by the beautifully preserved colours at Kalabsha and by Lake Nasser and its treasures that could be saved just in time or that now lie under water forever. Thank you for all the preparation and energy you put in this trip. I also want to thank all participants for their friendship."
Patrizia V.
"I still have Egypt on my mind these days and I think about it with a kind of melancholy, a feeling that I had not experienced for a long time.
The beauty of the places we visited and that strange feeling that somehow we belong there, are engraved forever on my memory.
As I said earlier, I felt privileged to experience dancing with talented musicians.
Back to my daily routine, I keep on dreaming about Egypt and all these beautiful memories.
Thank you Béatrice for this wonderful trip that I will long remember… hopefully until the next one, inch' Allah."
Margherita B.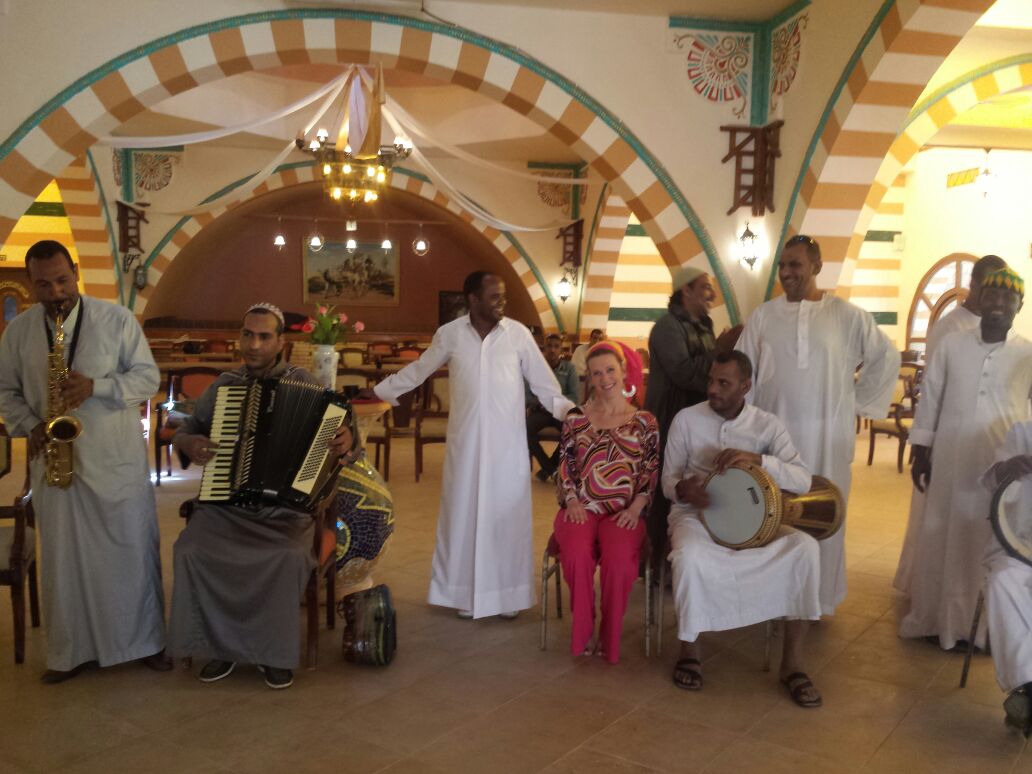 « Viaggio stupendo, pieno di emozioni, sensazioni e suggestioni.Alloggiare su un'sola del Nilo, fiume unico al mondo, è stato esaltante quasi quanto ballare con la musica dal vivo e con una Beatrice particolarmente ispirata. I Templi, le raffigurazioni colorate e il lago Nasser, con i suoi tesori esposti e sommersi, mi hanno provocato grandi emozioni. Quindi ringrazio chi ha speso tempo ed energie per organizzare e ringrazio anche tutti i partecipanti per la loro cordialità e cortesia. » Patrizia V.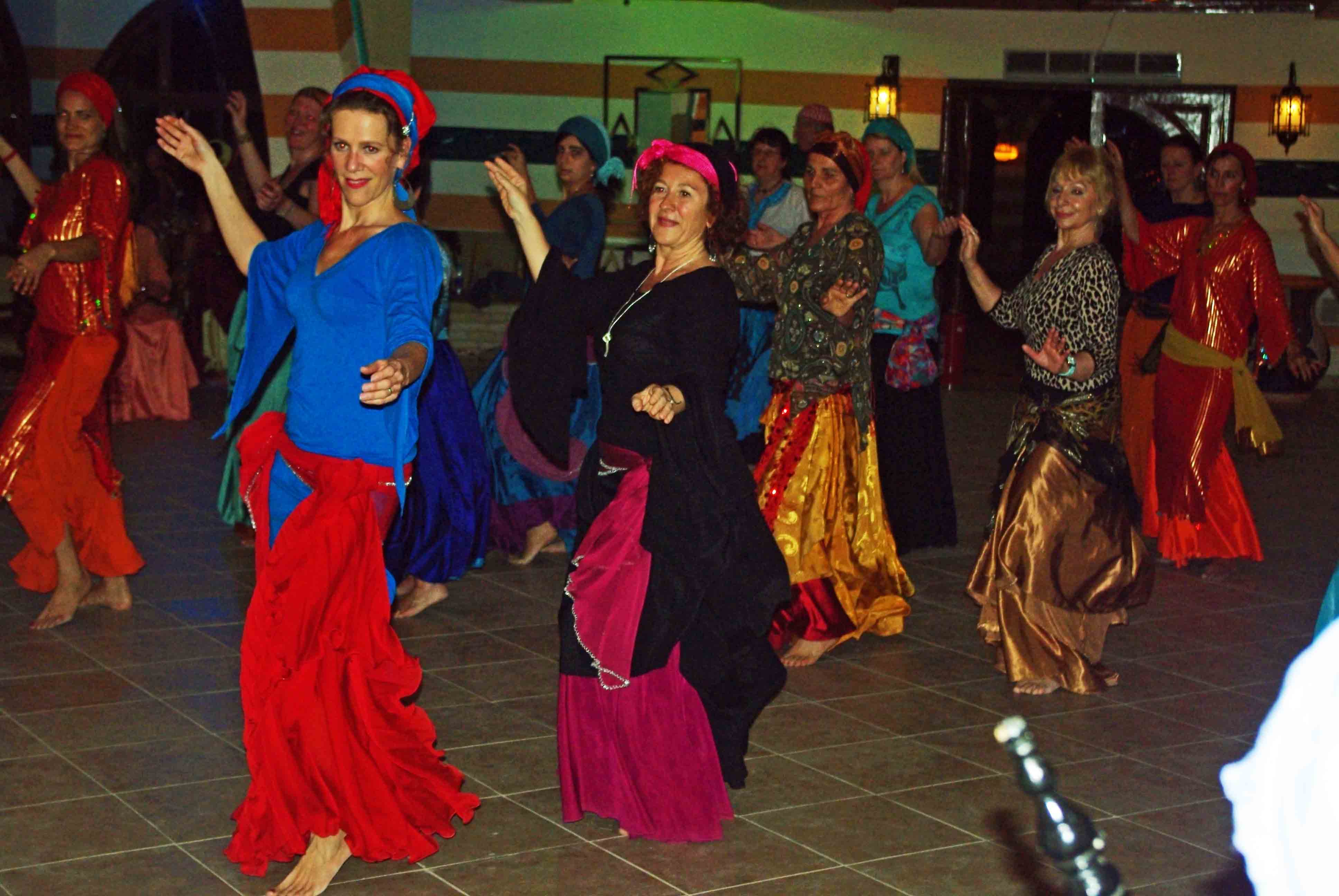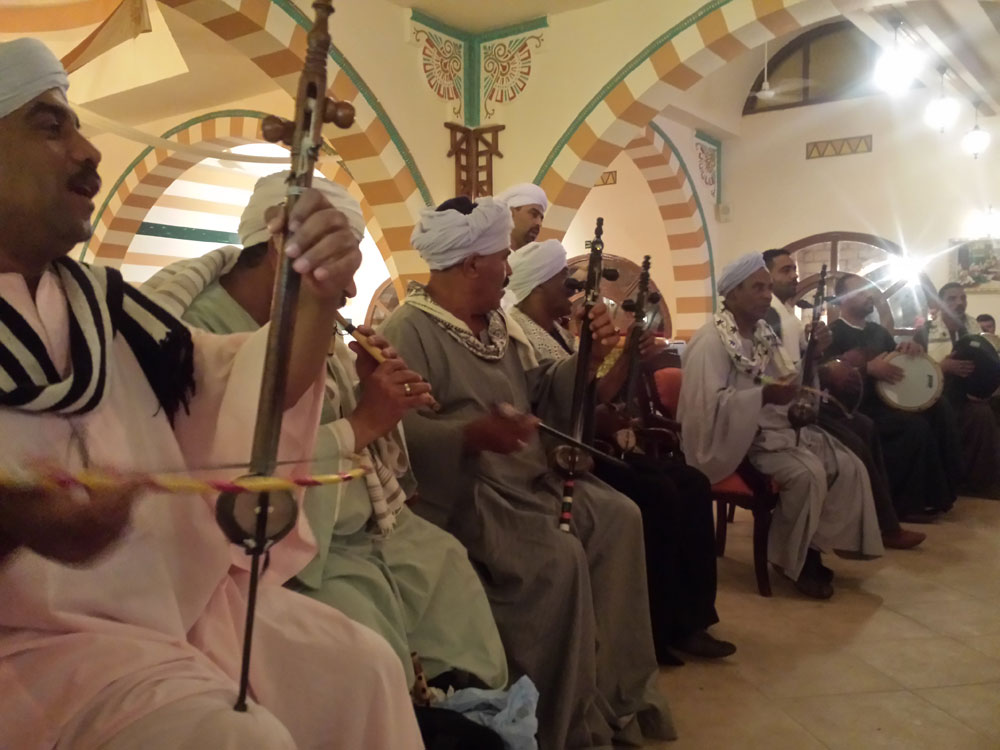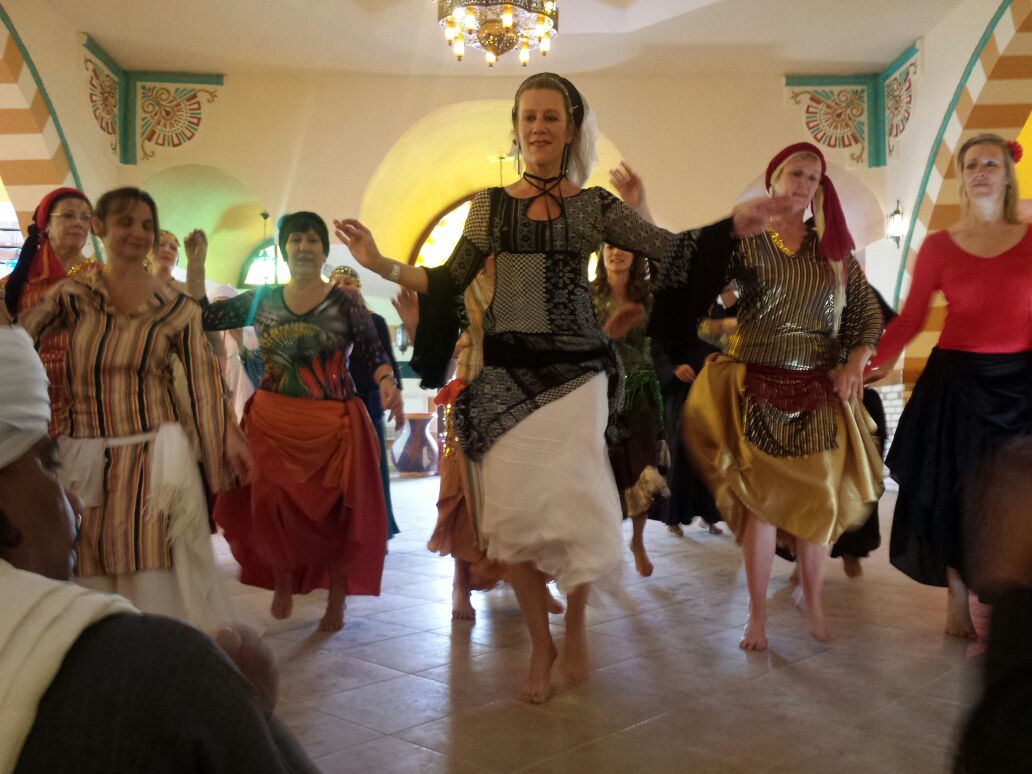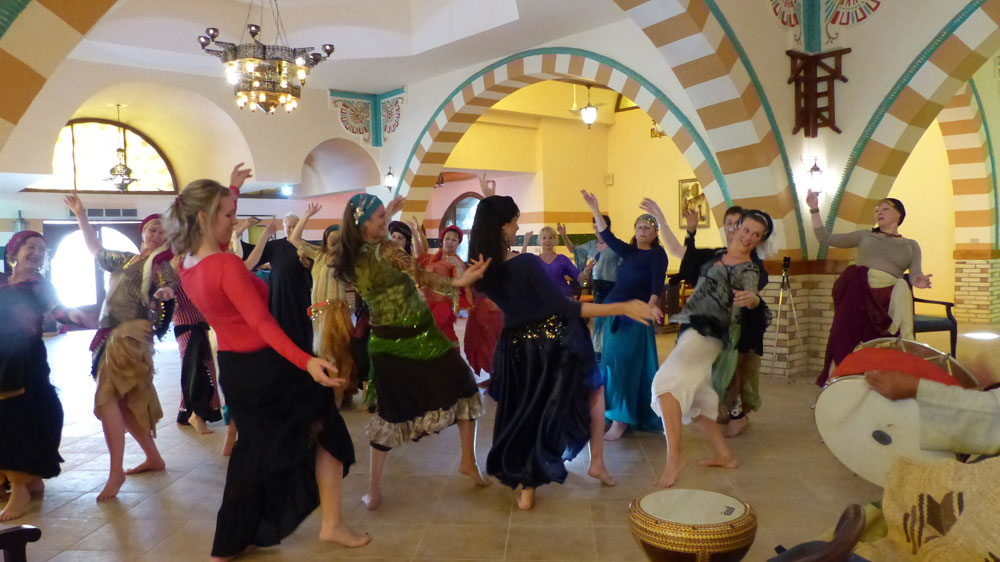 "I found the land of the black pharaohs so moving.
Dancing with gifted musicians was a unique experience. I have learnt a lot during these workshops. It was really electrifying.
The magnificence of the temples we visited also triggered off a lot of emotions.
I was filled with wonder at the sight of charming Aswan and the beautiful Nile River.
You made all this possible. Thank you for your generosity and careful teaching."
Bénédicte M.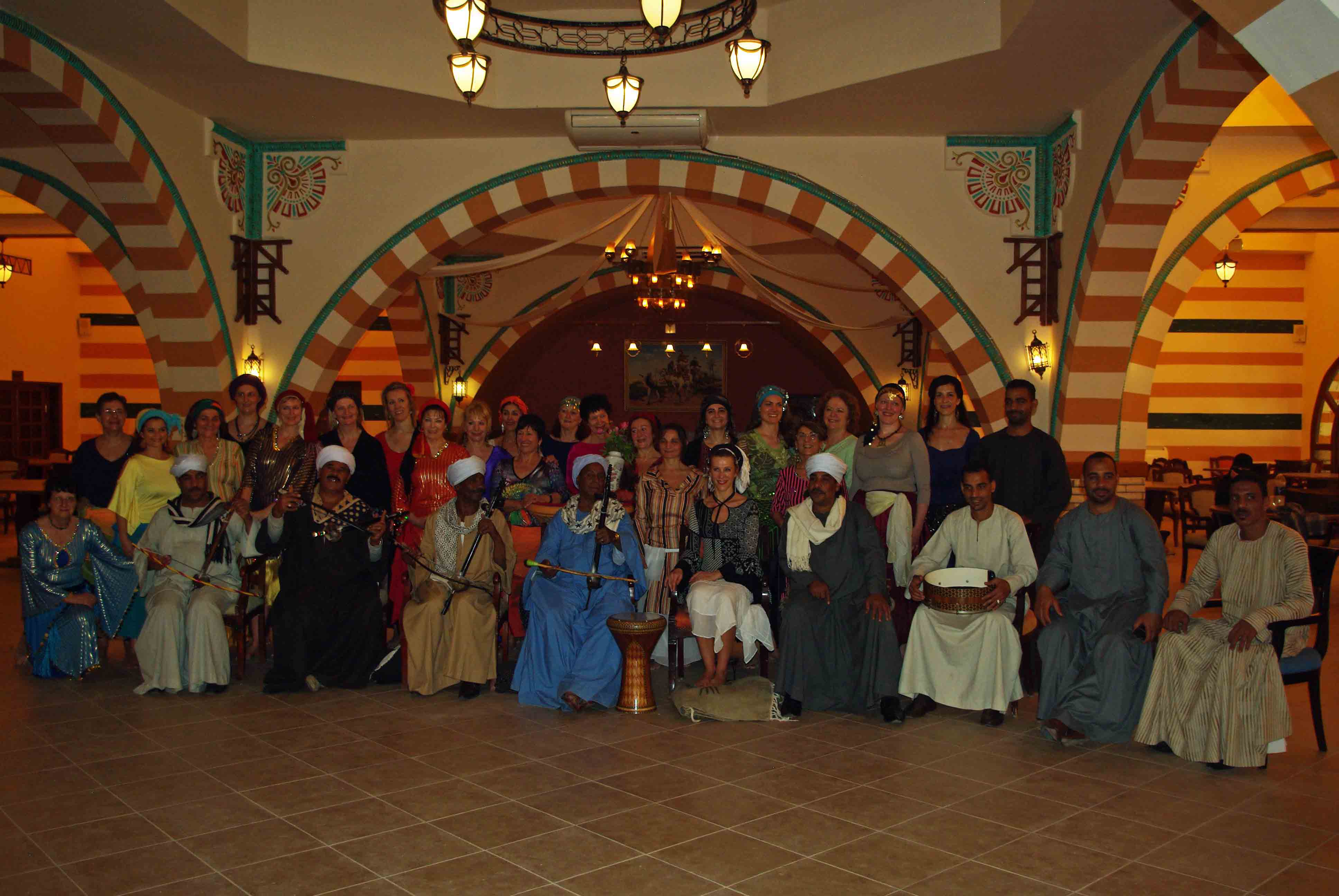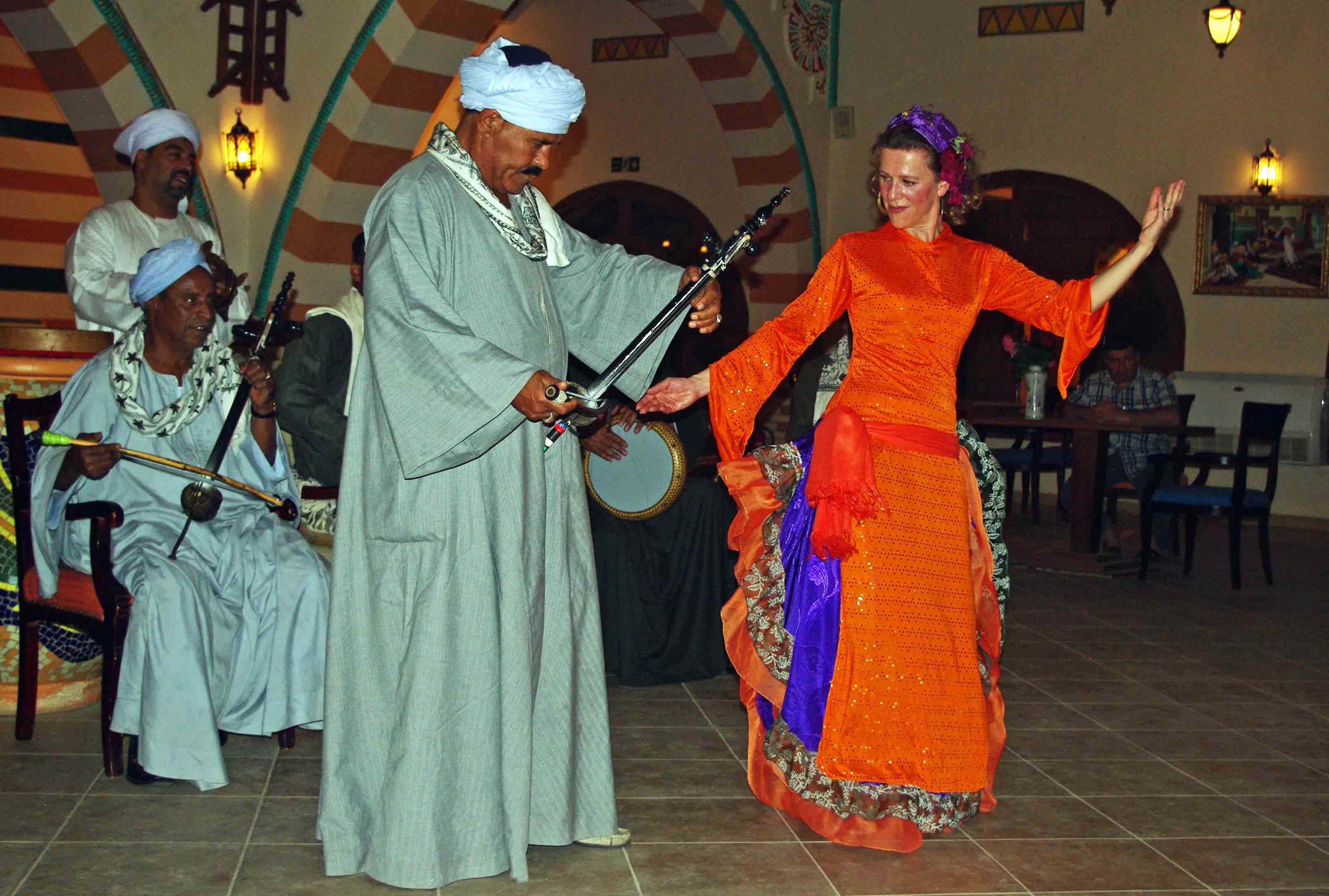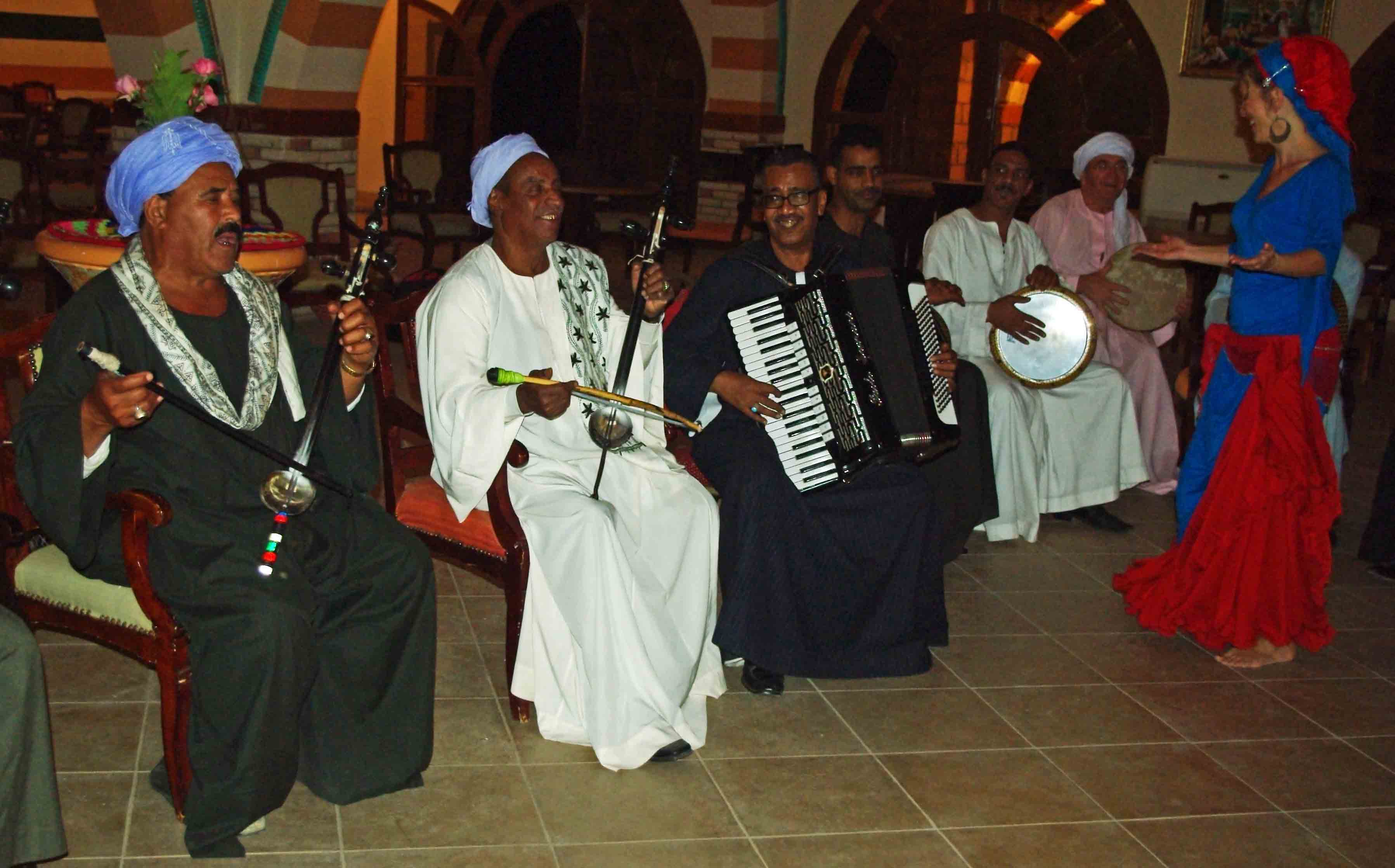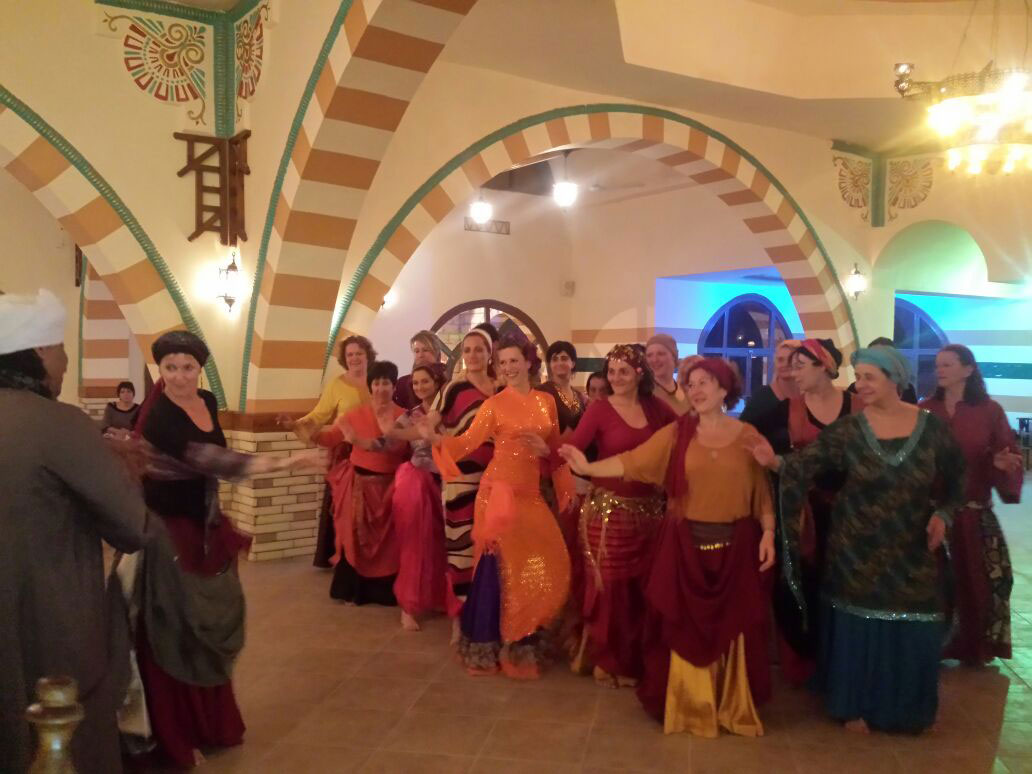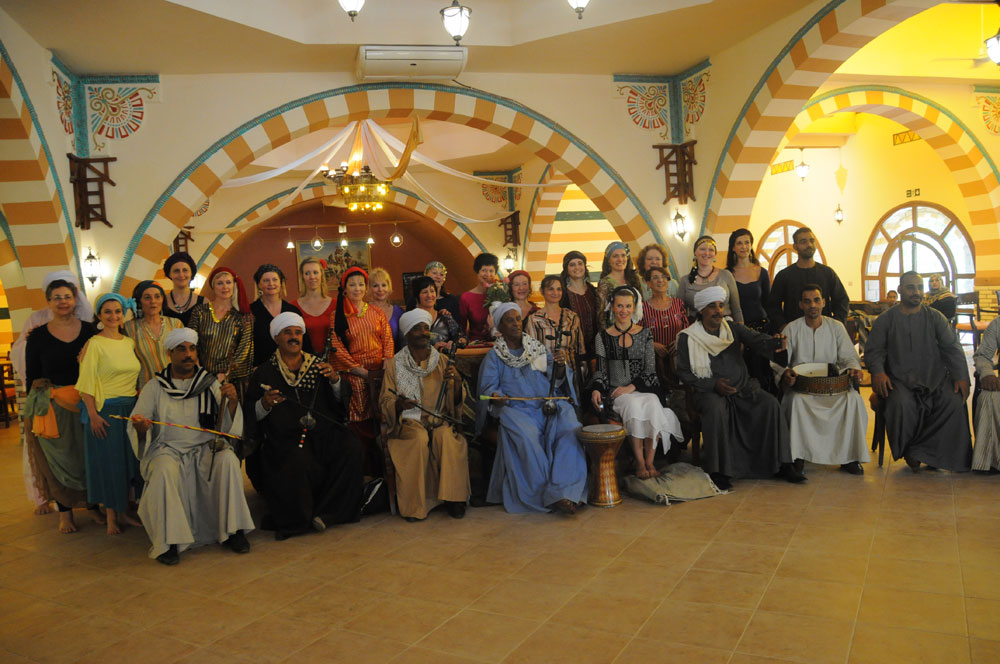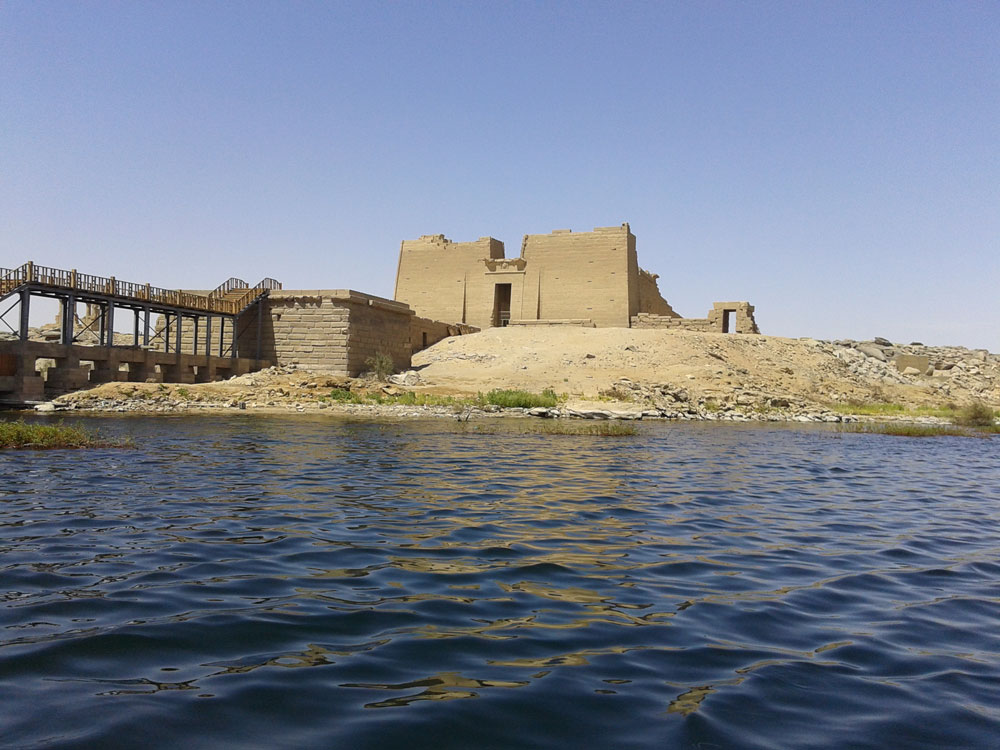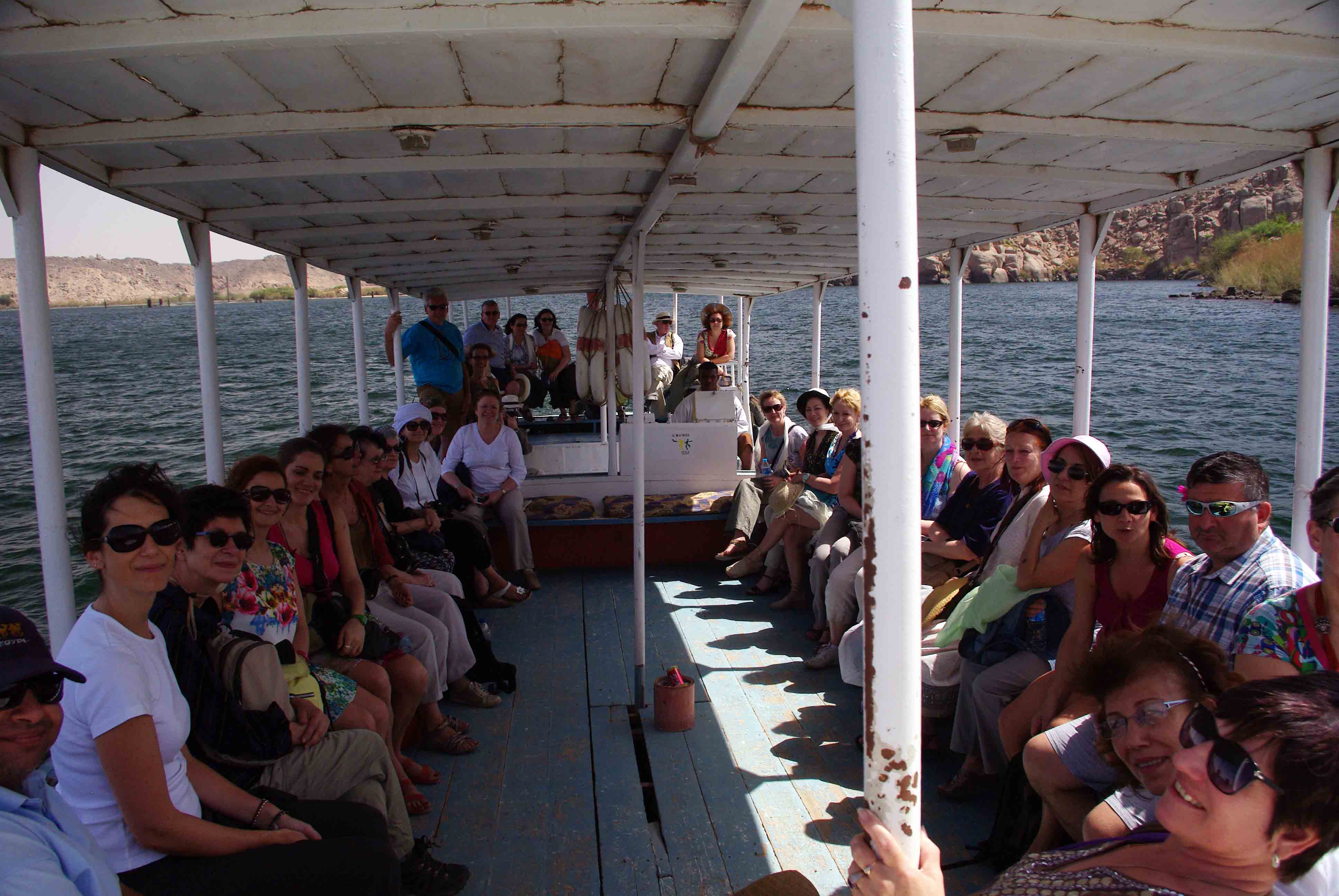 7th Tarab trip "Dance-Culture" : City trip in Cairo
From 14 to 18 March 2012
…. Workshops with magnificent troupes of musicians, important visits for those who have never seen Cairo but in a concept of "re-lived" for those who already discovered this exceptional city, varied walks and strolls in the heart of the fascinating of Cairo, "Al Qahirah", "The Victorious"…
Tarab trip 2010 "Luxor – Western desert – Kharga Oasis" / Fotos, videos and testimonies
Video: taqasim sha'abi - Kharga Oasis 2010 - Béatrice & The Musicians of the Nile
https://www.facebook.com/photo.php?v=473288312690885&ref=notif¬if_t=like
VViVViVideo : Sufi workshop - 2010 - béatrice & The troupe Al Tuni
Video Sufi workshop - Luxor 2010 - Béatrice & The Troupe Al Tuni
https://www.facebook.com/photo.php?v=441040165915700
Video classical workshop - Luxor 2010
https://www.facebook.com/video/video.php?v=535026823183700&saved
Photos Workshops
Photos Cultural evenings
Photos Participants
Photos Visits - Western desert - Kharga Oasis
"This year's trip surpassed all those of the past. It was fascinating to experience the desert and see what life must have been like for those banished from the Nile. The landscapes were awe-inspiring and we had some real fun in the 4x4 too! I enjoyed all of the cultural experiences but especially the Coptic group and of course the Maazin sisters- a once in a lifetime opportunity I think! It was lovely to see Sheikh Tuni is still performing with his ancient dignity and deep spiritual song! So Thank You once again for giving us an unique insight into the Egyptian people, their lands and their culture." (Ellie - UK)
"I would just like to thank you so much for the fantastic Tarab experience in Egypt! I have heard so much about these trips and was so excited to be part of it this year! It was fantastic, the Desert trip....the Musicians..... the Workshops....the Accommodation..... the Organisation......and the Entertainment in the evenings......Superb! Thank you for organising such an experience! (Diane - UK)
Trip 2007 "Louxor" / Photos, videos & testimonies
Photos & Videos Workshops
https://www.facebook.com/video/video.php?v=3706423095962&saved
Photos Cultural evenings
Photos Participants
Photos Visits & discoveries
Photos Sunsets on the Nile - Hotel
"Thanks again to you for making the holiday such a wonderful experience. It was very well organised and the cultural evenings gave us a privileged glimpse into authentic Egyptian culture. The illustration of the interplay between the playful and the serious in the music was an important revelation for me - I now feel I understand the role of music/dance in the culture more clearly. Your dancing was moving and highly inspiring. You were completely in the music, such a contrast with the belly dancers we saw! What particularly impressed me was the way you express the dance with such powerful feminity and elegance, dignified but passionate. A real inspiration! It was also of course fabulous to dance every day to such excellent live musicians. I enjoyed the fact we didn't focus on technique too much but just danced and enjoyed the music in such a beautiful location overlooking the Nile and the Valley of the Kings. I thought this was very freeing.I look forward to your next trip and will be recommending it to my students and dance colleagues." (Lise - UK)
"I would like to thank you or the wonderful visit to Luxor. I especially appreciated being totally immersed in Egyptian culture, through the visits to the various sites and temples and through the fabulous cultural evenings which were enormously varied and inspirational. I was particularly touched by the incredible experience of dancing with all of the excellent musicians, but in particular with the Musicians of the Nile. I felt there was a bond between musicians and dancers which is difficult to describe to those who have not experienced it. Thank you again for your energy, your never-ending patience, your enthusiasm and your determination to ensure that everyone enjoyed the trip to the maximum. It was an experience which I will treasure forever and I am sure that we will all re-live it in our minds for a long time after our return. Also, enormous thanks to your husband for his excellent organization. It seemed so effortless, but I think we only can imagine a small part of the work it takes to organize such a visit. I am delighted to have been able to share this magical trip with you and with such a superb group of students, many of whom have become friends. I return to my country with an even greater inspiration to continue my dancing and a desire to return to Egypt as soon as you organize the next trip. Thank you again. » (Lynne -UK)
"I just wanted to say a big thank you for arranging such a wonderful trip. I really enjoyed my stay. So did the other Finns. A week after returning home I met one of the Finnish ladies. She said to me " I wish I was still in Egypt." … Now I really understand the wonderful "pearls" you had collected for us. I mean especially all the musicians and performances in cultural evenings and in dance classes too. It was wonderful to dance with you with such a good live music. Thanks for everything. Looking forward the next trip." (Helena - Finland)
"The Finnish group wants to thank you both about this amazing experience in Luxor." (Aila, Liisa, Sirpa, Marion, Miika, Arja, Heli, Eija, Erkki and Marjukka - Finland)
"I wanted to say thank you for the wonderful dancing week in Luxor. For me it was a very good experience the dancing with the live musicians and also I liked your style and expression. Very powerful. Very nice dresses also. How you say in English: good taste of fashion?
Also the evenings were interesting. Also if the sufi and singers were completely new and probably I had no idea of the deeper meaning. But it was a very good entrance to start to know more about. More about also the culture, people and mentality. And of course of the dance!! More you know more you want to know and more you know you know that you know nothing. Dear Beatrice, hope to see you again another time." (Felicitas - Germany)
To read more: archives precedents trips / photos & testimonies
• " Cairo: Rendez-vous June 2000 "
www.tarabofegypt.com/html/archcair.html
• " Louxor: Rendez-vous May 2002 "
www.tarabofegypt.com/html/archluxorENG.html
• " Cairo - Alexandria – Fayoum Oasis : Rendez-vous March 2004 "
www.tarabofegypt.com/html/archcairoq.html
• " Aswan : Rendez-vous May 2005 "
www.tarabofegypt.com/html/svoyq_Assouan2005q.html


www.tarabofegypt.com/html/archcair.html