Forms & Tarab aesthetics
Béatrice Grognard provides the many faces of theatrical dance of Egypt with a new authenticity, which reflects the abundant musical diversity of this age-old country.
SHA'ABI
Sha'abi traditions (Sha'ab meaning popular, from the people) find their origins in villages and small towns all over Egypt. They play an essential role in the fellahs'life (fellahs are peasants, people living in the countryside or coming from rural areas). Every festival, every ceremony is played out to the rhythms of Sha'abi.
For many years, inspired by her first job as an archaeologist, Béatrice has been investigating the Sha'abi universe to help preserve its essence and endow it with an essential search for modernity, thereby preventing it to sink into oblivion or, even worse, to become just a caricature of a poorly inspired cheap folklore.
The Tarab style provides the Sha'abi universe with a new authenticity, thus meeting the demanding character of this music, which, because of its asserted rurality, requires simplicity, limpidity, spontaneity but also subtlety and elegance, as it finds its source in ancient times and yet has survived through the centuries. This survival confers a charismatic fervour on the Sha'abi music.
1. Saïdi
The Saïdi music of Upper Egypt (Saïd meaning South) is interpreted with great virtuosity by one of the best Egyptian ensembles, the Musicians of the Nile, a world-known troupe led by the master of rababa (two-strings viol), Raïs Mohamed Murad.
Since 2001, Béatrice evolves with this troupe, developing an artistic complicity and shaping an emotional body language which expresses with great precision the many twists and turns and the delicacy of this music.
From a technical point of view, the Saïdi repertoire requires to use one's body in a "wide", monumental and open way, with great elasticity, and to preserve the concept of "masculinity and feminity", which blend in energy and strenght.
Many technical and emotional variations blossom in this wide repertoire, where rhythms, cadences, melodies and words make it possible to develop the richness and powerful character of danced sequences and transitions.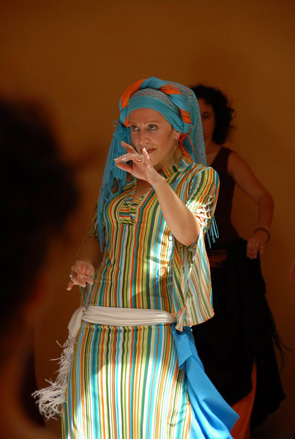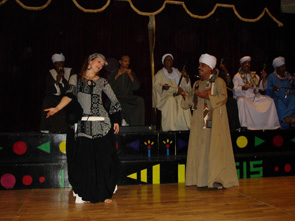 2. Ghawazy
The word "ghawazy"relates to the gipsy dance of Upper Egypt. It has ancient origins but has travelled down the ages and is still practised by a couple of women.
The Ghawazy dance has remained the same throughout the centuries and it's not pejorative to say that it is limited in its expression. Yet, this type of dancing is a brilliant example of sober attitude, solid vertical line, extreme strenght and fluidity of the pelvis. It is practised with the feet deeply connected to the ground.
Béatrice has developed this repertoire, inventing a more complex Ghawazy dance and with many more variations. Without changing the essence of this ancient dance, she has transformed it in a subtle combination of great physical performance and clarity of movements, preserving the strenght in transitions and eventually developing a sort of "seething calm".
Ghawazy dance at Tarab is an explosive mixture of deeply feminine movement, mocking and cheerful communication with the musicians and the public, "punching" with the pelvis, shoulder movements, extreme stretching of the body, jumps and feet moves that would even make the unchanging Nile ripple.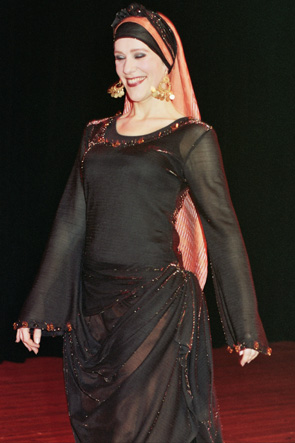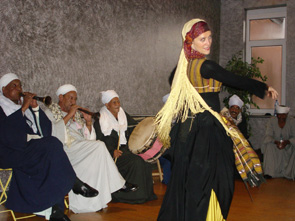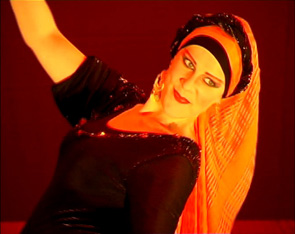 CLASSICAL STYLE
"Classical" refers to the classical music and dance whose distant origins are fundamentally linked to the support of the Egyptian elite for art and culture. At that time, in palaces and the residences of the rich, refined music groups called "takht" would perform; the group comprised an ûd, a qânun, a kamânga (violin), a nây and a riqq. Incidentally, "takht" is a Persian term for the raised platform where the musicians sat and which came to denote the orchestra itself.
The takht and the dancer it accompanied, deeply united in artistic expression, produced an atmosphere known as "Tarab" - "emotional ecstasy".
And so,for the aristocracy, dancing became something which reflected the extreme elegance of their world.
Today, Béatrice, whose work is marked by attention to detail and respect, is helping to bring the court classicalstyle back to life, and, thanks to her deliberately modern technical and aesthetic approach, is developing the modern classical style, a superb fusion of eastern and western sensitivities and techniques.